[ad_1]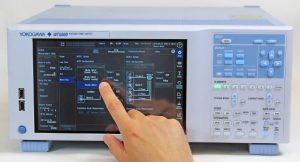 On ac measurements, accuracy is 0.03% – made up of 0.01% of reading plus 0.02% or range (44-66Hz). Power factor influence is 0.02% of S. It is slightly less accurate on dc: 0.02% of reading plus 0.05% of range.
The unit is modular, with up to seven measurement interfaces slotting in from the rear, each of which has fully electrically isolated input terminals.
For the matching range of slot-in modules, the firm has introduced an 18bit ADC, converting at up to 10Msample/s "As a result, it becomes possible to accurately capture waveforms from the latest high-speed inverter devices," said Yokogawa. "its wide dynamic current range is indispensable for tests on energy-saving designs."
This brings input frequency components up to 5MHz into range, and covers "harmonics up to 500th order", said the firm. Crest factor is 280% of the rated range.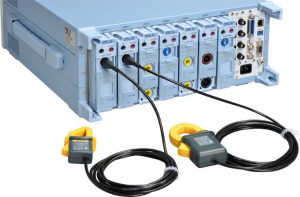 At the moment, two modules are available:
model 760902 5mA to 5A and 1,100Vac (1,500Vdc)
model 760901 500mA to 30A and 1,100Vac (1,500Vdc)
In each case, current is measured directly through terminals, or remotely using an external current transformer/probe (external options up to 2kA are available). A physical shutter on the back of the module prevents touch accidents from attempts to use direct and remote current connections simultaneously.
An increasing number of applications require the evaluation of larger-current devices, typical examples being electric vehicles and large-scale solar installations. In these cases, external current sensors are often used.  An external current sensor input function is fitted as standard in the input element of both the 30 A and 5 A input elements of the WT5000. For much higher currents (up to 2000 A RMS) dedicated high-current sensors are available.
"With a seven elements input capability, multi-system measurement is increased in harmonic measurements on 3-phase systems," said the firm. "For example, the WT5000 can carry out two harmonic measurement functions simultaneously, each at up the 500th order and up to 300kHz fundamental waveform. This makes it possible to measure the carrier frequency component from the rotational speed of the motor in the inverter drive and also to check the influence of the carrier frequency on the motor drive."
Specifically for motor analysis there is an option for eight auxiliary channels on the main chassis through which to connect sensors. For example, the speed and torque of four motors can be monitored simultaneously – Yokogawa is thinking of four-motor electric vehicles here – or two motors can be monitored in more detail – for example, A, B, C and Z phases of both motors can be measured.
For even more channels, multiple WT5000 units can be slaved together.
The user interface is through a 10.1in WXGA touchscreen and buttons. Because of potential high electric and magnetic fields around test instruments, some manufacturers including Yokogawa have been using resistive touch screens. However, in this case touch sensing is capacitive. "We have now developed a noise-resistant capacitive touch screen," said company marketing manager Anoop Gangadharan. "no menus pop-up [spontaneously] and there is no distortion on-screen."
[ad_2]

Source link