[ad_1]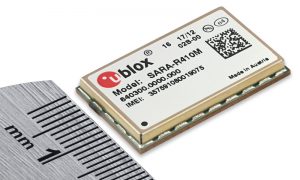 The SARAR410M02B allows customers to use a single hardware version globally with the ability to select modes dynamically between Cat M1and Cat NB1 as either single or preferred connection.
Firmware updates can be delivered with ublox proprietary uFOTA (firmware over the air). This enables customers to continue using the same hardware for future enhancements to features, functionalities or operator certifications.
A benefit of SARAR410M02B is the hardware readiness for future support of voice functionality via VoLTE over Cat M1, which can be used for applications requiring a level of human interaction, as is the case for security applications such as alarm panels. Thanks to ublox nested design, migration to SARAR4 Series from other ublox 2G, 3G and 4G modules is made easy.
SARAR410M02B provides an extended temperature range of -40 to +85°C, and supports Power Save Mode (PSM) and Extended Discontinuous Reception (e-DRX), which can extend battery lifetime up to 10 years.
3GPP Coverage Enhancement permits the module's connectivity to reach deeper into buildings and basements, and even underground when compared to other air interface technologies such as GSM or Cat 1.
[ad_2]

Source link