[ad_1]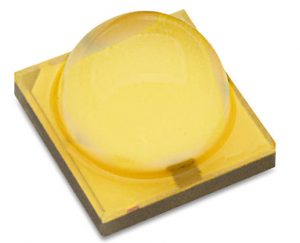 Those with long memories – to 2008ish – will remember an earlier Lumileds led with exactly the same name, which was pronounced 'luxeon five'. This one, Lumileds has confirmed, is pronounced 'luxeon vee'.
"Luxeon V can be driven harder than other LEDs in its class due to revolutionary new die and packaging technologies," said the firm, sadly not revealing the boundaries of the comparison class.
Part of this is apparently "next-generation 'patterned sapphire substrate" [PSS], and a chip-scale package (CSP) delivering a credible 0.8K/W thermal resistance from its standard 3-stripe 4 x 4mm footprint.
"PSS CSP LED chips tend to have the characteristic of five-sided emission, introducing difficulty in optics design. The Luxeon V architecture directs all the light to present an optimised Lambertian emission, greatly simplifying optics design for the application," Lumileds' spokesman Kevin Lucido told Electronics Weekly.
Nominal drive current is 1.4A, rising to 4.8A maximum.
The 1,700 lm claim comes at 4.8A from a 5,700K and 70 CRI  device.
"LUXEON V enables fixture designs that were previously unattainable for stadium and area lighting, torch and other portables because of the unique combination of high efficacy at high drive current with extremely low thermal resistance and optimised radiation pattern," said Lumileds' product marketeer Kathleen Hartnett.
Colour temperatures span 3,000K to 6,500K.
[ad_2]

Source link