[ad_1]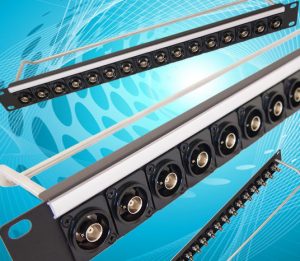 The panels have 16 x 24mm holes to accept the XLR format Cliff FT connectors with options of threaded M3x0.50 or #4-40 UNC mounting bushes. A connector labelling strip is located on the front and a cable strain relief bar is fitted at the rear.
"Our FT connector range has been very successful and we are introducing new versions regularly," said Cliff MD John Hall. "Customers are now asking us to provide pre-assembled panels to simplify their procurement and system building and we are very happy to respond."
The Cliff range of XLR Format FT range includes mounting-compatible connectors for audio, video, digital, optical, networking and data feeds.
Available versions include: GJ45, USB (single and dual; 3.0, 2.0 or Type-C), Firewire, HDMI A-A, 50Ω BNC, fibre (duplex and simplex), UTP and FTP RJ45s (Cat6 or Cat5e; shielded or unshielded), Toslink, RCA phono and blanking plates. Internal cable harnesses available as a special order.
Many of the connectors include gender-change from front to back or, in the case of USB, transition from Type A to Type B, etc.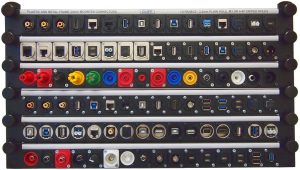 Cliff 6U rack
Finishes include: plastic, black-coated metal finish and silver anodised metal, and bezels are available in seven colours to identify the function.
Applications are expected including broadcast and audio-visual 'patch panels', medical, control, instrumentation.
All versions are in production and available direct from Cliff and via distributors in the UK and Europe.
[ad_2]

Source link