[ad_1]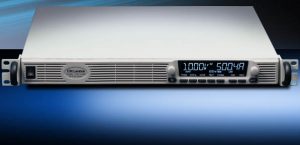 'Zero stack' design means that they can be inserted in a rack with no space in between, and four of them can be paralleled to produce 20kW. "They could go higher, but customers are usually looking for water cooling above 20kW," marketing director Martin Southam told Electronics Weekly. "We believe we have 33% better power density than competing programmable power supplies and half the weight – 7kg against 15kg."
The supply is the first in a series called Genesys +, a ground-up new design sharing only a name with last year's Genesys series. Power density has been doubled between generations, partly through increased efficiency, which is now up to 93%.
There are three input options, all three phase: 170-265, 342-460 or 342-528Vac.
And initially five output options: 0-10V (500A), 0‑20V (250A), 0-30V (170A), 0-300V (17A) and 0-600V (8.5A).
DSP is used to increase performance – including faster slewing between voltage levels, something that customers requested of the original Genesys series, according to Southam.
On the subject of agility, arbitrary waveform profiles, such as car battery simulation at vehicle start up, of up to 100 steps can be generated.
Two user programmable open drain output pins are available to activate external devices, such as load disconnect relays.
When paralleled, which is completely automatic once the outputs together are tied together and control ports are daisy-chained, power is shared and the master unit becomes the single point for programming, measurement and status information. The LCD of the master takes over all visual information duties.
The new series is control-compatible with both the original Genesys and Z+ models, using the same communication protocols and signals.
All functions can be programmed via the front panel or remotely using the LAN (LXI 1.5), USB 2.0 or RS232/485 communications interfaces, which are provided as standard (SCPI compliant). An isolated analogue control and monitoring interface (0-5 or 0-10V scale) is also provided. GPIB (IEEE488) is available as an option.
The new design incorporates Anybus CompactCom, to future-proof communications by allowing various interface to be added as they are introduced – Devicenet, Ethercat, Modbus and Profibus, for example.
Safety features include safe re-start, auto re-start, last setting memory and built-in protective functions.
"With safe-start configured, the power supply will return to its last operational settings after a power interruption but with the output disabled, while with auto re-start the power supply returns to the last used operation settings after a power interruption," said the firm. "Last setting memory retains settings such as the output voltage, output current, output on or off, over-voltage and under-voltage protection levels, and fold-back and start-up mode at each AC input turn-off sequence."
A blank front panel version will be available remote-only operation.
Safety certifications include IEC/EN/UL 60950-1 with CE marking for the EMC, LV (low voltage) and RoHS Directives.  The series conforms to the industrial environment IEC/EN61326-1 standard for conducted EMI, radiated EMI and EMC immunity.
Applications are expected powering test systems in component, aerospace and automotive testing, semiconductor fabrication, water treatment, and plating and solar array simulation.
[ad_2]

Source link