[ad_1]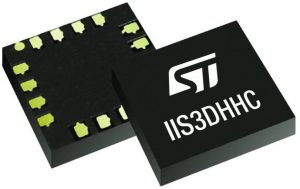 Called IIS3DHHC is a 3-axis accelerometer with ±2.5gravity full-scale range, optimised for high measurement resolution and stability to ensure accuracy over time and temperature (<0.4 mg/°C) – operation is over -40 to +85°C.
"Among key differences between this and typical consumer-oriented accelerometers, is that its ultra-low noise of 45μg/√Hz allows very high resolution," said the firm. "Moreover, sensitivity changes by less than 0.7% from -40°C and +85°C. This and low offset drift enables equipment to deliver consistent performance in various environments, including outdoors in cold or warm climates, or in industrial equipment, industrial robots, and drones, with minimal calibration or re-calibration required."
Analogue to digital conversion is included, as is a FIFO memory for data storage, and interrupt control.
It comes in a 16 lead 5 x 5 x 1.7mm ceramic LGA package.
The device is included in STM's 10-year longevity program – aimed at industrial equipment and other products with long market lifetimes.
"We will continue to introduce new types of precision sensors for industrial applications in the coming months, covered by our 10-year longevity commitment, including combination sensors, specialized sensors, and complete inertial modules." said Andrea Onetti, Group VP and General Manager, MEMS Sensors Division, STMicroelectronics.
Applications are expected in precision inclinometers in communication antenna-positioning mechanisms, structural health monitoring (SHM) for buildings and bridges, stabilisers or levellers for industrial platforms, tilt sensors, security sensors, and image stabilisation in high-end digital stills cameras.
[ad_2]

Source link