[ad_1]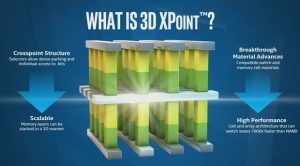 3D XPoint, Intel's 'new class of memory', will finally hit the street in Q2 2017 in the form of an SSD reports Digitimes.
Engineering samples of the SSD which is branded Optane, have been given to selected customers, it is reported.
Mass production is planned in Q2 for the technology which was launched in June 2015.
In terms of producing 3D XPoint DIMMS to connect its Xeon data-centre processors, Intel schedule runs further out.
Intel is now saying it won't introduce 3D XPoint to its server platform until the processor generation after the next generation which means that the Xeon processor which links with 3D XPoint will not be the upcoming Skylake but its successor Cannonball.
And if that's the case then 3D XPoint in a DIMM won't be on the market until late 2018 or in 2019.
When launched, in July 2015, the claim for 3D XPoint was: 1000x faster than NAND, 1000x the endurance of NAND, and 10x denser than DRAM.
By IDF 2015 in the autumn of that year the density figure vis a vis DRAM was down from 10x to 4x.
A year later, at IDF2016, the 1000x faster-than-NAND figure had been reduced to 100x. And the 1000x better endurance than NAND had shrunk to 3x.
3D xPoint is said to use phase-change technology which has eluded everyone for 40 years and may still be eluding Intel.
[ad_2]

Source link