[ad_1]

Additions to RadioVerse now include a new focus on lower power radio development with new radio transceiver hardware and software tools.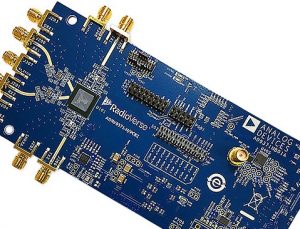 According to ADI, this will support the development of radio designs for 4G small cell and Pre-5G massive MIMO systems, building blocks in the transition to 5G.
The updated RadioVerse release, announced at the International Microwave Symposium in Honolulu last week, includes the AD9375 RF transceiver, the firm's latest wideband RF transceiver, which incorporate the digital pre-distortion (DPD) algorithm on-chip.
"The re-partitioning of the DPD system from the FPGA to the transceiver cuts the number of JESD204B serial data interface lanes in half, resulting in a dramatic power savings particularly as the number of antennas per base station increases from two to 128 in support of Pre-5G massive MIMO radio-channel density requirements," said ADI.
The AD9375 transceiver enables a common radio platform design that is tunable over a range of 300MHz to 6GHz, operates on a 6Gbit/s JESD204B interface and consumes less than 5W.
It has two 100MHz receivers, two 250-MHz transmitters, a two-input observation receiver and a three-input sniffer receiver. The transceiver's integrated DPD solution supports 3G and 4G waveforms with an instantaneous signal bandwidth of up to 40MHz.
The RadioVerse transceiver hardware portfolio also has wideband devices for base station architectures ranging from macro- to pico- and femto-cell form factors. And there are low power, narrowband transceivers for industrial Internet of Things applications.
A reference design, developed in partnership with Benetel, supports 2×2 20MHz LTE with 250mW output-power-per-antenna and consumes less than 10 Watts, all in a small form factor measuring 88 mm x 83 mm.
NXP Semiconductors and Skyworks Solutions also contribute to the platform.
[ad_2]

Source link