[ad_1]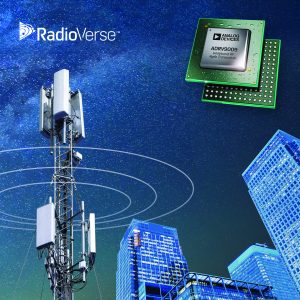 ADI claims to have  the industry's widest bandwidth RF transceiver with an IC which  Is a single radio platform to accelerate the deploymentof 5G, sustain 2G/3G/4G coverage, and simplify phased array radar design.
The ADRV9009 RF transceiver delivers twice the bandwidth (200 MHz) of previous generation devices and replaces as many as 20 components, cutting power in half and package size by 60%.
The chip meets the antenna density and expanded network capacity requirements of emerging 5G wireless infrastructure equipment and aerospace and defense systems.
ADI claims that it is the first RF transceiver to support all existing cellular standards.
The device is tunable over a range of 75 MHz to 6 GHz to support 2G/3G/4G/5G services, which allows cellular equipment manufacturers to adopt a single, compact radio design across all band and power variants.
This reduces product design times by as much as half while simplifying the deployment and maintenance of multi-band, multi-standard communications equipment.
[ad_2]

Source link