[ad_1]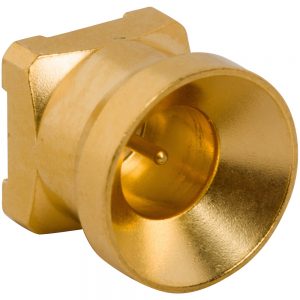 The connectors are designed specifically to maximize radial and axial float in board to board applications.
The HD-EFI PCB jacks are available in through-hole, surface mount, and edge launch designs.
The three-piece mating system uses a limited detent and a smooth bore PCB connector, joined by a floating bullet adapter in between.
The gathering cone and bullet design allow for 1.4mm of axial float, and 1.4mm of radial float, with a maximum float angle of 5 degrees.
These 50 ohm products have an operating frequency of DC to 6 GHz, making them ideal for high-performance applications with a small package size. The selection of PCB mounts and bullet lengths offer versatility for board launches and PCB stacking configurations.
HD-EFI bullet adapters are designed to provide a crash-proof mating, facilitated by the extension of the insulator beyond the adapter body. Used in conjunction with the smooth bore connectors, the mating system allows for easy alignment and a secure connection.
[ad_2]

Source link