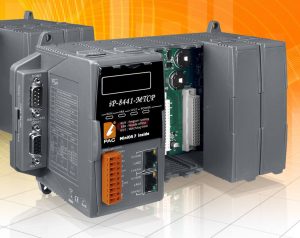 They will be used in custom data acquisition systems that require the measurement and control of a large number of process signals over an Ethernet network.
The iP-8841-MTCP and iP-8441-MTCP have been specifically designed to withstand harsh and noisy environments; its wide input range (10 – 30VDC).
With an operating temperature range of -25C to 75C, they are suitable for industrial monitoring and control applications such as building automation, process control and remote diagnosis and testing.
The iP-8000-MTCP series from ICP DAS is compatible with the ICP DAS I-8K range of modules, with each unit offering two Ethernet ports for dual LAN monitoring.
The units offer auto configuration, LED indicators for fault detection, dual watchdog, programmable power-on and safe values.
They use a DOS-like OS (MiniOS7). An SDK is also included, which provides rich functions for Modbus communication, such as Modbus TCP master/slave, Modbus RTU master/salve and Modbus ASCII master/slave, etc.