[ad_1]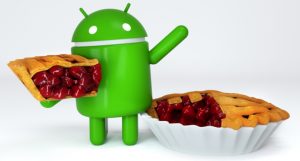 According to Google's Product Manager James Nugent, the newest release of Android features AI-powered productivity tools, security enhancements and support for a wider range of use cases. He writes:
"In Android 9, work apps have their own tab in the All Apps menu, making them easier to find and distinctly separate from personal apps. Android 9 also brings support for in-app switching between apps that exist in both the work and personal profiles.

The work profile also complements Android's focus on digital wellbeing. While our phones are a big part of our work lives, it's important to be able to disconnect. A new toggle feature lets users turn off work apps and notifications quickly and easily."
Basically apps in the work profile are bundled together, and can be toggled on or off depending on your work situation (see below).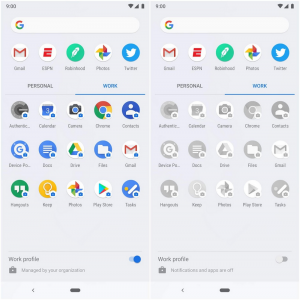 New to Android 9, too is App Actions, which is described as an AI-powered feature that displays suggested actions based on a user's context. These can be seen in the Android launcher, Smart Text Selection, the Google Search app, Google Assistant, and the Play Store.
Security
There's an important updated related to security, too. Specifically, enabling hardware security capabilities such as tamper-resistant hardware, dubbed Strongbox, similar to the "secure elements" built into credit and smart cards, says Google.
Android 9 is also the first major operating system to support secure transactions via Protected Confirmation APIs as well as enabling app developers to leverage the tamper-resistant hardware (Strongbox) which raises the bar when it comes to protecting sensitive app data. We also continue to harden the Android platform through additional compiler-based mitigations, to make bugs harder to exploit and prevent certain types of bugs from becoming vulnerabilities.

Android 9 protects all data that enters or leaves a device with Transport Layer Security (TLS) by default. It's also the first mobile operating system to support DNS-over-TLS for private browsing. Additionally, IT administrators can require different PINs and timeout rules for personal and work profiles and set policies to further prevent data sharing across profiles. New APIs will be available that work with keys and certificates to securely identify devices accessing corporate resources.
Android 9 also supports multiple people using a shared device.
Devices can be configured as a kiosk, with a user's data erased at the end of every session or set up for multiple employees. An employee working the day-shift can hand off their device to their colleague working late with data preserved between sessions but fully separated at all times.
Availability
Coming to a phone near you? Probably not, as an over-the-air update to Android 9 is now only rolling out to Google Pixel phones.
Google says, however, that it will be available later in the autumn on a wider range of devices, including Android Enterprise Recommended devices and those featured in its beta programme (from Sony Mobile, Xiaomi, HMD Global, Oppo, Vivo, OnePlus and Essential, as well as all qualifying Android One devices).
[ad_2]

Source link