[ad_1]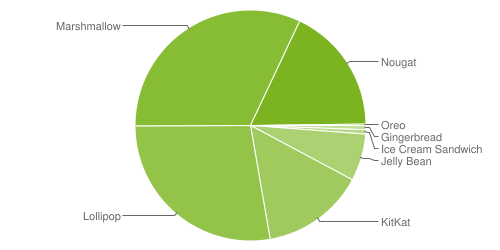 To be precise, the stats are based on active devices interacting with Google Play over the period of a week.
Movement among the versions tends to the glacial, but Android "Nougat" 7.x has notably gained 2 extra points in percentage share. That might not sound impressive, but it represents a 12.7% increase month on month.
While Nougat waxes, Lollipop wanes (down 3.8% month-on-month) and KitKat, too (down 4%).
Another point to note is the first appearance of Android "Oreo" v8.0, albeit just recording a 0.2% share (it's currently in developer preview only).
See Google's developers dashboard for the full latest stats. ("Data collected during a 7-day period ending on October 2, 2017. Any versions with less than 0.1% distribution are not shown")
Monthly comparison
So, here are the detailed Android platform share figures, with comparison to the previous month for some context…
2.3 – 2.3.2 Gingerbread – disappeared
2.3.3 – 2.3.7 – (was 0.6%) – 0.6%
3.2 Honeycomb – disappeared
4.0.3 – 4.0.4 Ice Cream Sandwich – (was 0.6%) – 0.6%
4.1 Jelly Bean – (was 2.4%) – 2.3%
4.2 Jelly Bean – (was 3.5%) – 3.3%
4.3 Jelly Bean – (was 1.0%) – 1.0%
4.4 KitKat – (was 15.1%) – 14.5%
5.0 Lollipop – (was 7.1%) – 6.7%
5.1 Lollipop – (was 21.7%) – 21.0%
6.0 Marshmallow – (was 32.0%) – 32.0%
7.0 Nougat – (was 14.2%) – 15.8%
7.1 Nougat – (was 1.6%) – 2.0%
8.0 Nougat – 0.2%
See the full stats at developer.android.com/about/dashboards/index.html
[ad_2]

Source link