[ad_1]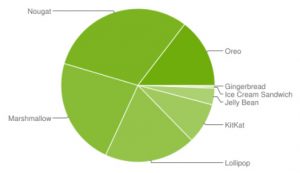 As always, the stats are based on active devices interacting with Google Play over the period of a week. ("Data collected during a 7-day period ending on August 31, 2018. Any versions with less than 0.1% distribution are not shown").
The main takeaway is that it's too soon for the recent official release of Android "Pie", version 9, to appear in the figures. It was only announced at the start of August.
The newest release features AI-powered productivity tools, security enhancements and support for a wider range of use cases, among other things.
However, its predecessor – "Oreo", versions 8.0 and 8.1 – now account for one seventh of Android devices active in the wild, 14.6% in total.
As Oreo waxes, KitKat, Lollipop and Marshmallow – versions 4.4, 5.x and 6.0, respectively – have slightly melted away. All very unsurprising.
Monthly comparison
See Google's developers dashboard for the full latest stats, but here are the detailed Android platform share figures. They include comparison to the previously released totals, for a bit more context…
2.3 – 2.3.2 Gingerbread – disappeared
2.3.3 – 2.3.7 – (was 0.2%) – 0.3%
3.2 Honeycomb – disappeared
4.0.3 – 4.0.4 Ice Cream Sandwich – (was 0.3%) – 0.3%
4.1 Jelly Bean – (was 1.2%) – 1.2%
4.2 Jelly Bean – (was 1.9%) – 1.8%
4.3 Jelly Bean – (was 0.5%) – 0.5%
4.4 KitKat – (was 9.1%) – 8.6%
5.0 Lollipop – (was 4.2%) – 3.8%
5.1 Lollipop – (was 16.2%) – 15.4%
6.0 Marshmallow – (was 23.5%) – 22.7%
7.0 Nougat – (was 21.2%) – 20.3%
7.1 Nougat – (was 9.6%) – 10.5%
8.0 Oreo – (was 10.1%) – 11.4%
8.1 Oreo – (was 2.0%) – 3.2%
See the full stats at developer.android.com/about/dashboards/index.html
[ad_2]

Source link