[ad_1]

After first appearing on phones, voice assistants entered the home in a big way with the , a speaker that was equipped with Amazon's Alexa voice assistant. 
While Apple has had a voice assistant, Siri, on its phones for some time now, it has so far been left behind when it comes to smart speakers. Competitor Google brought its own voice assistant to dedicated hardware with the speaker last year. 
Rumors have been circulating for a while now that both Microsoft and Apple are planning on bringing their voice assistants, Cortana and Siri respectively, to the home in the form of smart speakers. 
Read on for all the information we have so far about Apple's rumored smart speaker. 
Cut to the chase
What is it? A rumored smart speaker equipped with Apple's Siri voice assistant
When is it out? TBA – Apple is yet to confirm that it actually exists
What will it cost? Competitors range in price from $50 to $180 – Apple's will likely be priced towards the high end of this range
Apple Siri Speaker release date
The most recent rumor points towards a launch in the , in time for the Christmas shopping season, after an announcement at Apple's annual developer showcase, WWDC, which this year takes place in June. 
However we're slightly skeptical of this rumor for a couple of reasons. 
First is the fact that WWDC is traditionally a conference where Apple talks about software rather than hardware, so talking about a new piece of smart speaker hardware would be highly unusual. 
Secondly we're skeptical that the speaker would be announced as early as WWDC, only to be released much later in the second half of the year, as Apple likes to release hardware as soon as possible after it's announced; each year the iPhone is released just 10 days after its initial announcement, for example. 
There have been exceptions to this rule such as the , which released around three months after they were originally announced, but for the most part Apple maintains a fast turnaround between announcement and release. 
Unfortunately this doesn't leave us with much of an idea about when the smart speaker might be coming, but after hearing that Apple employees are already , we're guessing it's .
Apple Siri Speaker features
If you want to get an idea of what a Siri speaker would be capable of, then Siri on your iPhone is a good place to start. 
Currently Siri is able to sync up with a number of the iPhone's core features. It can add reminders to the reminders app, create events in the calendar app, set alarms and timers, call and video "Facetime" call contacts, and find and read emails. 
Siri is also heavily integrated into , which is the company's home automation ecosystem, that allows you to control all of your connected devices from a single app. Using HomeKit you can have Siri turn on your lights, increase your home's thermostat, or even activate a ceiling fan. 
However, Siri has some significant problems compared to competing voice services. 
For example, it heavily prioritises Apple's own apps rather than allowing you to use alternatives. Ask Siri to play some music, and it will only be able to play songs that are currently stored in your Apple Music app. 
This is in contrast to both Alexa and Google Assistant, which both allow you to use a music app of your choice, rather than restricting you to Amazon Prime Music and Google Play music respectively.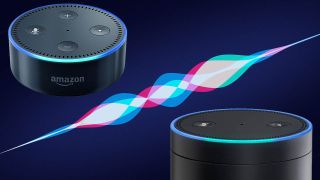 Amazon has been especially open with allowing developers to integrate their services into its smart speakers. It allows the creation of 'Skills' which essentially act as apps for the smart speaker, and so far there have been over . 
On a basic intelligence level, Siri also has a number of problems. Ask it when the Mona Lisa was painted (the year 1503, art buffs), and the voice assistant will happily tell you that 'the answer is one thousand, five hundred and three,' rather than being intelligent enough to realise that the year should be read aloud as 'fifteen oh-three'. 
Of course there's always the chance that Apple will put significant effort into improving Siri before the technology finds its way into a smart speaker. Google did a similar thing when it overhauled Google Now, creating Google Assistant, in the months before the Google Home was released.
Meanwhile, recent comments by Apple VP Phil Schiller suggest Apple is thinking along the lines of a Siri speaker with an integrated screen – so basically just a big iPad with better audio, then?
Facial recognition
Previously, smart speakers focussed entirely on the voice, and recognising the commands that are spoken by the user. 
However, there are some rumors that Apple's rumored smart speaker might feature via a built-in camera. 
The technology could be used to recognise which users are interacting with the device, allowing it to cater to their individual preferences in music or lighting. 
Over the past two years Apple has acquired the facial recognition startups Faceshift and Emotient, which suggests that such technology is something that the company is exploring. 
Apple's speaker would not be the first to feature a built-in camera. The recently announced has a built in camera, which is used to recognise and recommend clothing choices. 
Google Home recently added the ability to , and we'd imagine that Apple would want to feature similar functionality if it wants to compete with the existing major players in the market.
Emotion sensing 
Related to the facial recognition capability is a recent rumor that the smart speaker will be able to .
We're not entirely sure what this could end up adding to the overall user experience, but it's funny to think that the speaker could theoretically play different music depending on how it reads your mood.  
Beats technology
Another recent rumor points towards the device making use of 'some form of Beats technology', although it's unclear exactly what this could be. 
It is believed to carry some form of Beats technology, and is expected to run an variant iOS27 April 2017
Apple needs to improve Siri's ability to recognise our voice, since we've found that its current implementation on phones can be a little flaky. Could a Beats-built microphone fit the bill?
The big development with Beats headphones over the last year has been the introduction of Apple's new W1 bluetooth chip, which makes it a lot easier to pair the headphones to an iPhone, and also improves battery life. 
Obviously that latter point isn't as important for a speaker that's likely to be mains, rather than battery, powered, but it would be a great feature if the speaker could be easily paired to your phone by simply holding it close by. Could this perhaps be another way of identifying the user – by proximity to the W1 chip?
Apple Siri Speaker AirPlay
The Amazon Echo Dot has a 3.5mm audio jack output that allows it to plug into a stereo, and Google Home integrates with the Chromecast. 
Allegedly Apple's Siri speaker will offer similar functionality thanks to an integration with Apple's AirPlay technology, which allows users to stream video and audio from their phone to a television or stereo respectively. 
Apple is currently finalising designs for their Alexa competitor, expected to be marketed as a Siri/AirPlay device.27 April 2017
A new challenger has entered the arena
Smart speakers are one of the most unexpected and cool technologies to have come out over the past couple of years, and interesting to see each of the technology giants repurposing their existing voice assistants to work in a home context. 
Apple isn't the only one with such a device on the horizon. Microsoft appears to be readying a home speaker equipped with its Cortana voice assistant, and between that and Google's existing smart speaker efforts, the market is set to get crowded very quickly. 
Apple has a real chance of standing out when it comes to its home automation efforts thanks to HomeKit, but it's not as strong when it comes to integrating with non-Apple services such as Spotify. 
Apple's next major conference is set to be WWDC in June, but as previously mentioned, we would be surprised to see a hardware reveal come out of the software-focussed show. 
Then again when it comes to Apple anything is possible, so keep your eyes trained on the McEnery Convention Centre in San Jose from 5-9 June for any new information about Apple's voice controlled ambitions. 
[ad_2]

Source link