[ad_1]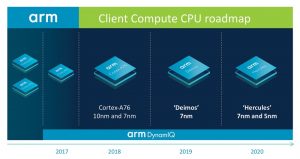 Following the release of Cortex-A76 in May this year, Arm will deliver a CPU, codenamed Deimos to partners later this year, according to the roadmap. The latest CPU is optimised for 7nm nodes and based on the company's DynamIQ technology. The technology was introduced by Arm for its Cortex-A processors and is characterised by fast, complex data processing, claimed to boost artificial intelligence computations by up to x50 over previous systems over the next three to five years. Its access to accelerators with a dedicate low-latency port and data transfer speed are all designed to increase throughput of compute vision or machine learning systems, as well as autonomous vehicle systems.
Next will be a CPU codenamed Hercules in 2019. Also based on DynamIQ technology, this will be optimised for 5nm and 7nm nodes. Its introduction is expected to improve power and area efficiency by 10%, coupled with efficiency gains from adopting the 5nm process node.
Nandan Nayampally, vice president and general manager, Client Line of Business, Arm said that the company is targeting the PC and laptop market and looking to increase market share in Windows laptops and Chromebooks over the next five years.
"Leading PC OEMs already recognise that efficiency is a key differentiator for the always-on, always-connected, laptop experience which is characterised by very slim, light form factors, full day battery, and excellent responsiveness," he said. "Windows 10 systems powered by Arm-based Qualcomm Snapdragon SoCs are already available from ASUS, Lenovo, HP, and Samsung have also announced they will join the mix as well. Along with Microsoft, these partners have given users a new choice for connectivity and an always-on experience that was not possible a year ago."
"The CPU roadmap Arm has laid out coupled with Qualcomm's heterogenous approach to computing across our various IP block and integrated connectivity, will allow for new advancements in the always-on, always-connected PC experience offered by the Qualcomm Snapdragon Mobile Compute Platform," said Alex Katouzian, senior vice president and general manager, mobile, Qualcomm Technologies.
"The pace of innovation that transformed smartphones into the compute platform of choice is now powering and transforming the larger screen devices," said Nayampally. He believes client CPUs can release developers from Moore's Law to deliver productivity in mobile devices for consumers and business in the 5G era.
[ad_2]

Source link