[ad_1]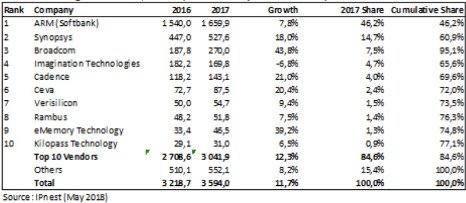 While half the top ten vendors grew by double digit figures in an IP market that grew 11.7% last year, ARM grew by 7.8% and Imagination declined by nearly 7%.
ARM's license revenue declined by 6.8% y-o-y although royalty revenue grew  17.8%.
ARM's market share declined from 47.8% in 2016 to 46.2% in 2017,
It has been suggested that RISC-V is impacting  ARM though it could just be a change in accountancy practices after the Softbank takeover.
[ad_2]

Source link