[ad_1]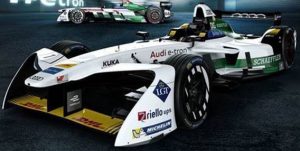 "After nearly 40 years of being active in motorsport, Audi now becomes the first German automobile manufacturer to compete in Formula E in order to test and advance the development of new technologies for production," said Audi board member Peter Mertens.
The Audi 2017-18 season car has only one gear, as opposed to the three used earlier in Formula E.
"While in the first Formula E season in 2014/2015 completely identical electric race cars were used, the teams and manufacturers, since the 2015/2016 season, have been allowed to develop the entire power-train themselves, consisting of the motor, transmission and parts of the suspension as well as the respective software," said Audi.
The car's racing debut is planned to be the Formula E season opener in Hong Kong on December 2, 2017.
In the formula, maximum output of the motor in qualifying is limited to 200kW (272hp) and 180kW (245hp) in the race. Power for all cars comes from a 200kg 34kWh (28kWh may be used) Li-ion battery from Williams Advanced Engineering.
"The Audi e-tron FE04 is the final evolution of the first Formula E era," said Audi. "In the fifth season that will start in fall/winter of 2018, a completely new design of a specification chassis will be used that will radically differ from all single-seater cars known to date. The battery to be used then will have twice the capacity of the current one so that the car change currently required will no longer be necessary and the drivers will contest the race in only one car."
[ad_2]

Source link