[ad_1]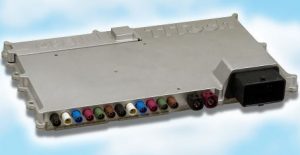 Aimed at mass production vehicles, the platform includes TTIntegration software and tools.
It is the first outcome of the collaboration between TTTech and Renesas announced in January 2016, and is an extended version of kit released in October 2016.
The hardware is based around dual R-Car H3 SoCs, the RH850/P1H-C MCU, and an ASIL-D functional safety concept – Renesas' RH850/P1HC MCU and TTIntegration software platform conform to the ASIL-D functionality safety. Renesas' R-Car H3 SoC conforms to ASIL-B.
"It can be used by Tier 1s and OEMs to immediately prototype their functions in an embedded automotive ECU," said Renesas. "It shortens time to market by enabling system developers to verify and integrate software easily on the prototype ECU designed to deliver a track to mass production vehicles."
The ECU has been developed for automotive sample grade quality following requirements on thermal design and shock resistance, with an IP51 aluminium housing for mounting in the passenger cabin or luggage compartment.
It can be directly connected to an automotive power supply and is designed to work across -40 to +85°C under running vehicle vibrations. It comes with comes with cabling and use guidelines.
TTIntegration internal software has been designed to simplify integration, and provides services to run several safety critical applications in parallel on multiple SoCs. A partitioning concept ensures, said Renesas, that safety related applications cannot be impacted by other applications running at the same time.
A co-simulation environment on standard PC allows functions to be developed on the platform side-by-side with applications running on a PC. "They all can share the same data and services as if it would be a single domain ECU", said Renesas.
Plans are that the platform and support will be available in Q2 2017 from TTTech.
[ad_2]

Source link