[ad_1]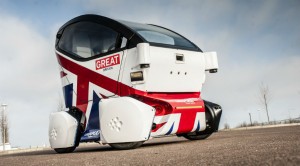 But it will also see £100m invested in the development of infrastructure for autonomous vehicles, the much talked about 'driverless cars'.
The Chancellor ear-marked £390m for transport technology, including £80m for charging infrastructure for electric vehicles and £100m for new connected and autonomous vehicle (CAV) testing infrastructure.
There was £150m in support for low emission buses and taxis, £40m of further support for the Plug-In-Car Grant, £20 million for the development of alternative fuels for HGVs and aviation.
"It is encouraging to hear the Government has chosen to invest in two of the most important and exciting developments for the British automotive industry," Matthew Franey, chief executive officer of Foxtrot Papa.
"Providing additional funding for development of the infrastructure will allow us to develop better Connected and Autonomous Vehicles. Britain now has a chance to position itself at the forefront of what is the biggest area of evolution that the car industry has undergone. We are witnessing an exponential growth in the need to communicate the benefits of autonomy and connectivity to the consumers and it seems the Government is alive to this potential; and we encourage the additional funding that the Chancellor announced today."
The government is also providing £450m to trial new digital rail signalling technology, which it says will increase capacity and reliability of our railways.
You can read the full Autumn Statement 2016 online. This is the technology section:
£390 million will go to future transport technology, including driverless cars, renewable fuels and energy efficient transport. This will include:

£100 million investment in testing infrastructure for driverless cars
£150 million to provide at least 550 new electric and hydrogen buses, reduce the emissions of 1,500 existing buses and support taxis to become zero emission
£80 million to install more charging points for ultra-low emission vehicles
See also: Autumn Statement: Match tech investment with skills, says RAE
See also: Autumn Statement 2016: some of the things we've announced
[ad_2]

Source link