[ad_1]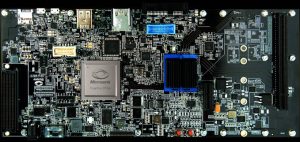 "Plugged into HiFive Unleashed, developers can implement a full-fledged RISC-V personal computer by enabling standard PCI Express (PCIe) devices, USB and secure digital cards to connect to SiFive's Freedom U540 RISC-V processor," said Microsemi, whose PolarFire FPGA is used to implement interfaces on the board.
It also has a PCIe root complex, SATA port, M.2 SSD port, HDMI, DDR4 memory expansion and eMMC-managed NAND flash.
Embedded applications are the intended application, within communications, industrial, defence, medical and avionics markets. For example, implementing control plane, image processing, video processing, machine learning, control processing, time-sensitive networking, encryption, root of trust, secure wireless communications and aircraft networking.
"Numerous commercial and open source developers are adopting RISC-V for Linux-based designs. Particularly in the embedded market, where a majority of today's designs run Linux, this Microsemi/SiFive RISC-V solution offers a compelling development environment," said Rick O'Connor, executive director of the RISC-V Foundation.
RISC-V is a free and open instruction set architecture (ISA).
"As the ISA is frozen, said Microsemi, "software which is written will always run on the RISC-V core, and since the RISC-V IP core is not encrypted, it can be used to ensure trust and certifications not possible with closed architectures. "
Microsemi will show HiFive Unleashed at the RISC-V Workshop in Barcelona, Spain  7-10 May.
The board will be sold by Crowdsupply.
[ad_2]

Source link