[ad_1]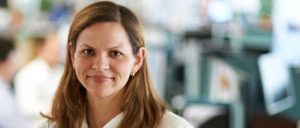 A survey of 642 companies in the manufacturing, service and retailing sectors reported that the CBI growth indicator rose to 19 in December from 6 in November – the biggest increase since December 2015.
All three sectors had robust growth with manufacturing performing particularly well, with factories reporting their strongest order books in 30 years, boosted by the cheap pound and a strengthening global economy.
The services sector, which makes up 80 per cent of the UK economy, showed notable improvement from November. Business and professional services picked up after three flat months, while consumer services recovered after falling in November at their fastest pace since April 2013.
In Q1, however, the CBI growth indicator is expected to slip to 4.
"Private sector firms are enjoying healthy activity levels, but mediocre expectations for growth underline the ongoing challenges facing companies," says the CBI's Anna Leach (pictured), "persistent cost pressures will ensure that inflation remains at a high level, perpetuating the squeeze on household spending."
Inflation hit 3.1% in November.
The CBI expects the economy to grow at an average of 0.3 per cent each quarter during 2018, about half the average rate seen since 2013. The economy grew by 0.4 per cent in the third quarter of 2016.
[ad_2]

Source link