[ad_1]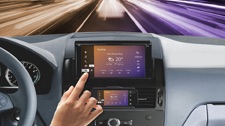 Based on the Renesas R-Car H3 platform, the UX was developed using DiSTI's GL Studio and will be used for 3D instrument clusters, head-up displays and infotainment.
Tony K. John, global head of marketing at Tata Elxsi, writes:
"The partnership with DiSTI will enable Tata Elxsi design team to rapidly prototype advanced HMI which seamlessly transitions with the target system such as instrument clusters, infotainment head units, Rear-Seat Entertainment, ADAS and connected car application interfaces and across SoC platforms.

"The conformance of the tool up to ASIL-D adds further value when we and DiSTI jointly go to market and provide end to end design and software development to our customers."
Tata Elxsi is showing the integrated e-cockpit at its booth 6223 at CES 2017, Las Vegas.
[ad_2]

Source link