[ad_1]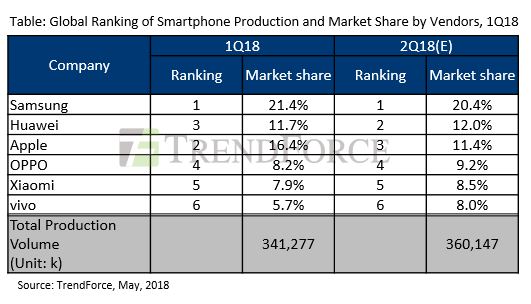 LG produced 13.5 million smartphones in 1Q18, over 50% of which were shipped to North America, its largest market.
Sony produced only about 2.2 million smartphones in the first quarter.
 Nokia produced about about 4.3 million units , and is estimated to grow by 16% in 2Q18.
Huawei's production volume increased by 10% YoY in 1Q18, and may grow by 8% QoQ in the second quarter due to the sales of flagship models.
Xiaomi registered 27 million units in smartphone production for 1Q18.
OPPO and Vivo saw unit volumes increase 10% and 2% QoQ respectively in 1Q18 and are expected to ship  33 million units and 29 million units respectively in 2Q18.
[ad_2]

Source link