[ad_1]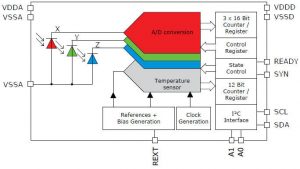 Called AS73211, it uses integrated interference-filter-on-glass technology to offer "light and colour measurements closely matching a typical human eye's perception of light, as defined by the CIE 1931 tri-stimulus model", according to the firm, which brands the filters 'Jencolor'.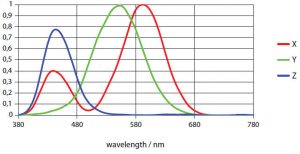 This type of filter means colour response is stable over time, with no further calibration required for the lifetime of the end product, and the sensor is said to be highly resistant UV damage.
An integrated temperature sensor is used to compensate colour measurement accuracy over the chip's -40°C to 125°C range.
Light level range for accurate colour measurement is 0.4 to 208,000 lux, and measurement is through an ADC can offer up to high resolution, or fast conversion – the light-to-digital range is 10 to 24bit with conversion from 125µs to 16s.
"The very high performance of the device is due in part to the unusually large sensing area on the surface of the chip," it said. "The high sensitivity makes it particularly suitable for precise measurements of dark objects and materials, such as black pixels on a display screen, dark skin, black paint or soil, even in low light conditions."
Packaging is 16-lead QFN.
Automatic power-down can be implemented to save power in hand-held applications.
AS73211 is in volume production now, and there is an evaluation board.
Applications are envisaged with:
medical and high-end professional displays, for white colour balancing and display colour management
spotlights, projection systems and video wall modules, for control of power LEDs
professional hair and skin tone analysers
professional and industrial colour picking and matching equipment
aviation display and lighting controls. "A single AS73211 can support feedback control over the entire output range from full brightness to deeply dimmed" – AMS
[ad_2]

Source link