[ad_1]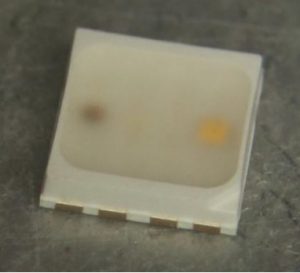 The package is a standard surface-mount 5 x 5.2mm PLCC8, 1.1mm high.
At 100mA, output is:
CLQ6A*
lm
cd
λ dominant
mA
max**
mW
max***
red
14
3 – 5.86
619 – 624nm
200
520
green
30
7.03 – 14.4
520 – 535nm
180
684
blue
8.2
1.824 – 3.59
460 – 475nm
180
684
white
25
5.86- 12
2,500-6,500k (CCT)
200
720
* combined data CLQ6A press release and CLQ6A-TKW data sheet. I have asked Cree if all CLQ6As are CLQ6A-TKWs.
** continuous, 'single-color light', says data sheet – which looks like it could do with a little clarification in some places.
*** total power within package not specified (at least, I can't find it in the data sheet)
Binning and part numbering are a strange affairs – check the data sheet to work it out, and then explain it to me please. I looked at data sheet version CLD-CT1387.001.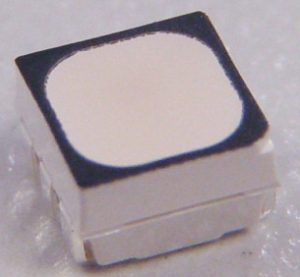 Plus a new amber
At the same time, said the firm, it has extended the CLX6F family with a phosphor-converted amber option that delivers 23 lm at 105mA in a 3.4 x 3.5 mm package.

Hunting on the website, it looks like this might be the part CLX6F-AKB – bizarrely eventually found by clicking on a link for CLX6D-FKB  after this search.
The CLX6F-AKB has three separate die accessed through six pins, designed to be run at 50mA each, so 150mA in parallel.
It comes in a 3.5 x 3.4 x 2.8mm package.
I would not normally make such a fuss about part numbers, links and website clarity.
Cree is a company that makes high-quality products – at least, all the ones I have ever used are/were excellent.
However, unless I am making some mistakes here, and I am sorry if I have, its information is not as superbly clear as it once was.
Please Cree, put accurate links to actual data sheets in your news releases. I spend at least an hour trying to unravel numbers for this blog.
[ad_2]

Source link