[ad_1]

The 'Big Idea Challenge' is a competition for students to come up with an innovative business or social enterprise idea.
Aimed at college students who dream about starting their own business one day, the Big Idea Challenge is a competition to help learn how to develop an idea into a powerful business model and pitch it to the world.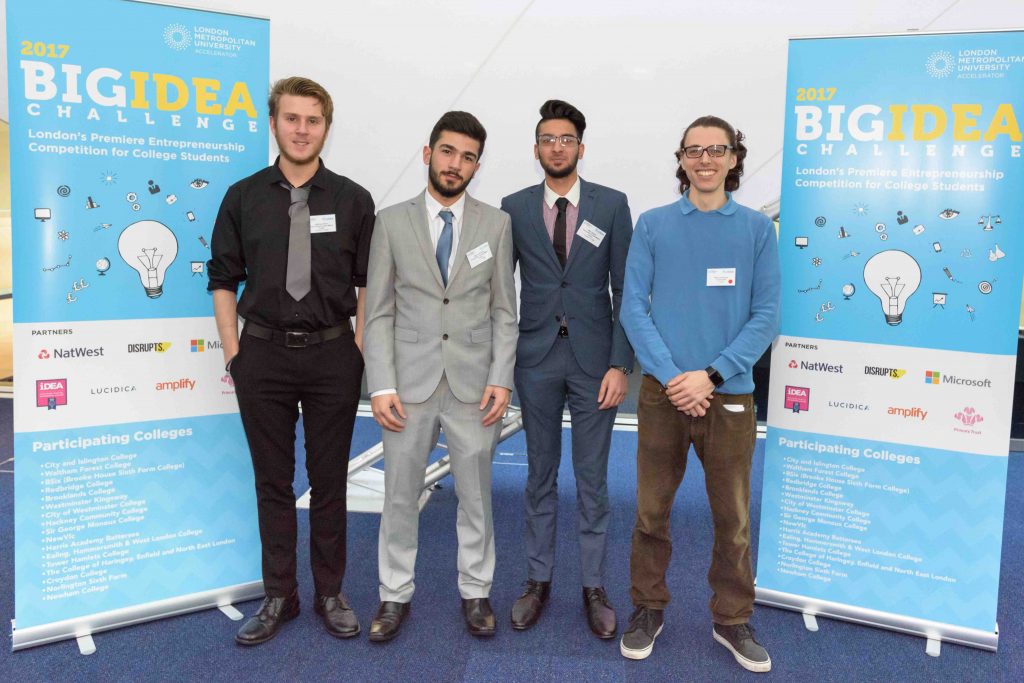 Left to right in the picture above are the Croydon College team: Matthew Amos, Bilal Afghan, and Oguz Karsandi from Croydon College with their mentor Marco Santesso, Co-founder, Giggo
In partnership with Microsoft, NatWest and Unilever, the BI Challenge is run by London Metropolitan University and aims to get young people interested in entrepreneurship.
Students from across London entered the Challenge and now the best have gone through to a public vote.
The Croydon students came up with the idea of a football app to allow groups of friends to generate football games in their area and find extra players if they are short. The team is now through to the public vote; the student team with the most votes will win.
Croydon student Bilal Afghan said: "We won an internal challenge that was held at college to progress to the bootcamp. The Big Idea Challenge has been great for developing a sense of community within the team. We came up with idea based on experience and have learnt a lot about the ins and outs of developing a mobile app.
"Before this, we didn't know how to calculate the market and develop our app so that it would be more in line with what the customer wants."
Croydon College lecturer Yvonne Gallagher said: "The Big Idea Challenge has been a really good process for the students to build their confidence. They have been given a great chance to develop their skills. They are loving the experience so far."
Toby Kress, Head of Accelerator at London Metropolitan University, which runs the Big Idea Challenge, said: "We created the Big Idea Challenge to help inspire young people to pursue rewarding careers and have been blown away by how talented the students are.
Voting runs from now until midnight on Friday 31 March so there's just 14 days to make it happen. The team with the most votes will be crowned the People's Choice winner at the gala awards night on Monday 24 April.
The page where people can view the pitch and vote for the idea is:
[ad_2]

Source link