[ad_1]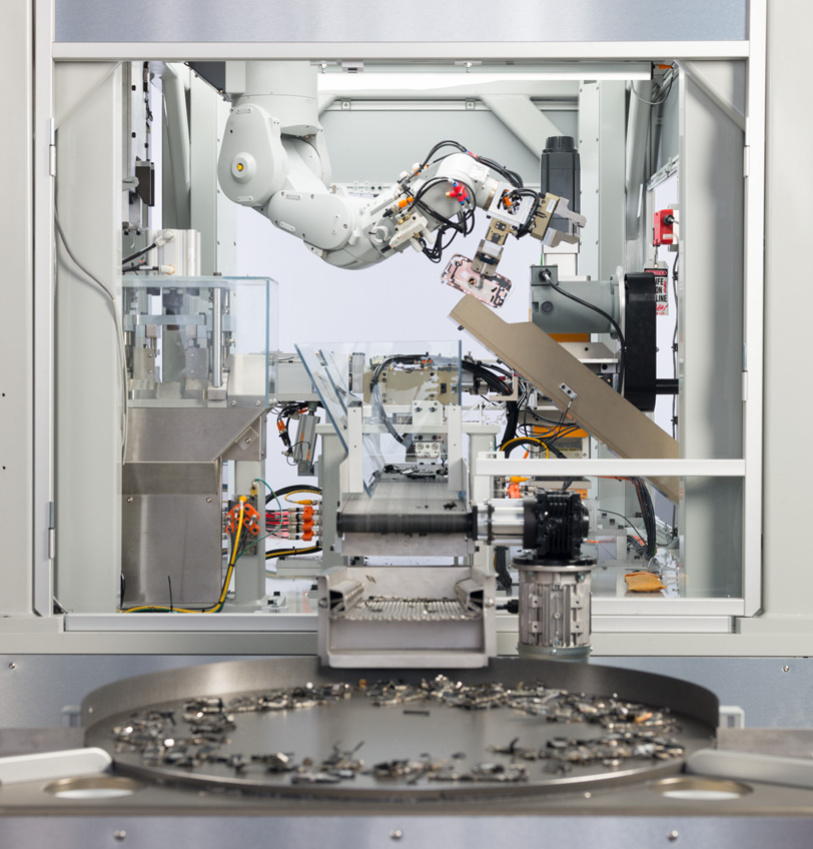 It moves at a rate, too – it can take apart up to 200 iPhones an hour.
Apple also claims that Dasy can reach parts that traditional recyclers cannot, and to a higher quality. For example, it can recover tungsten and certain rare earth elements and better process the aluminium recovered.
Check out Daisy in the video below:
The robotic initiative was announced last week, ahead of Earth Day, and the company says it will help it move "a step closer to its goal of making its products using only recycled or renewable materials."
For every 100,000 iPhone devices processed, Apple says Daisy has the potential to recover:
Aluminium 1900 kg
Gold  0.97 kg
Silver 7.5 kg
Rare earth elements  11 kg
Tungsten 93 kg
Copper 710 kg
Palladium 0.10 kg
Tin 42 kg
Cobalt  770 kg
Tantalum  1.8 kg
Existing techniques, such as shredding, recover only a few kinds of materials and often diminish their quality. Daisy can take apart up to 200 iPhone devices per hour, removing and sorting components, so we can recover materials that traditional recyclers can't – and at a higher quality. By meticulously disassembling our products, we can direct components and materials to those recyclers who can recover what's important. These materials will then be sent back into secondary materials markets – closing the loop on these materials and reducing the need to mine more resources from the earth.

Daisy builds upon the learnings from Liam, our R&D experiment in automated disassembly that we announced in 2016. We created Daisy to have a smaller footprint and the capability to disassemble multiple models of iPhone with higher variation compared to Liam.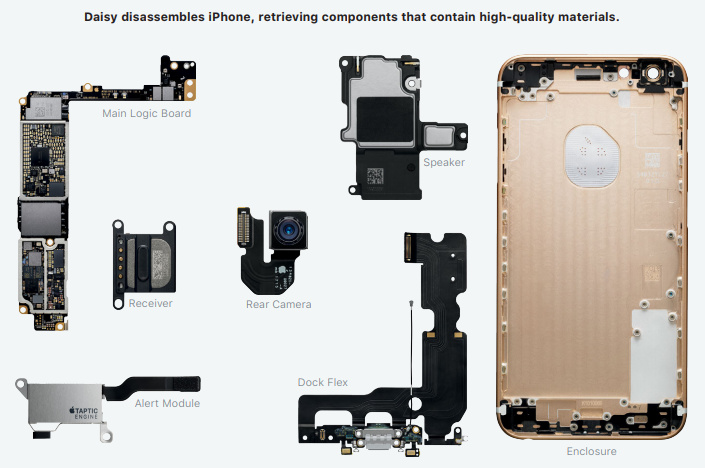 iPhones around the world
You can read Apple's 2018 Environmental Responsibility Report online (PDF), where Daisy is documented.
The plan, apparently, is to install Daisy in multiple locations around the world, starting with the United States and Europe.
What are the nine end-of-life iPhones that Daisy can process? The iPhone 5, iPhone 5s, iPhone SE, iPhone 6, iPhone 6 Plus, iPhone 6s, iPhone 6s Plus, iPhone 7, and iPhone 7 Plus devices.
Aluminium and Tungsten
The big win comes with Aluminium. Apple writes:
We've found that one of the best sources of recycled aluminium comes from our own products and processes. That's because we specify such a high grade of the material to make our products strong, durable, and beautiful. And today, the only way to keep the aluminium at this quality level is with a clean material stream – not mixing it with other grades of scrap aluminium, as is typical at recycling facilities. So our challenge is to recover the aluminium from our products and processes without degrading its quality. With Liam, Daisy's predecessor, we found a way to maintain the original aluminium purity from reclaimed phones post disassembly. So we designed Daisy to integrate this step.
Tungsten is also cited:
Tungsten is a key material used in our Taptic Engine and other consumer electronics that enable devices to vibrate. The availability of recycled tungsten varies by geography and by supplier, and the tungsten in our products is currently lost to shredding in traditional recycling processes. So Daisy retrieves the alert module and allows us to send it to speciality recyclers who recover tungsten.
Interesting and a very good example of what automation can achieve. But what do you think? Leave a comment below.
[Via NewAtlas]
[ad_2]

Source link