[ad_1]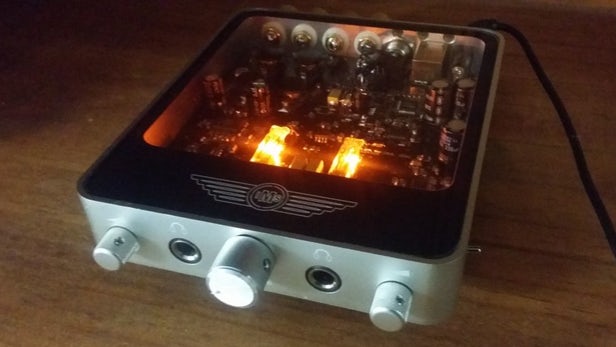 The devil is in the detail, of course – and I'm no audio expert – and this is on KickStarter, which is American English for "Caveat Emptor"…
However, New Zealand's IMS Electronics already has a track record in this area and the Desktop Valve Amplifier is an amplification of existing work…
Check out the Kickstarter page, the full specs and admire the images! The unit is built around Raytheon 6418 Glass Tube Valves, the Savi Audio SA9227 audio streaming controller (described as compatible with all Windows operating systems and Apple OS) and the Texas Instruments PCM5102A audio stereo DAC.
As well as the eye-catching innards, aluminum casing and Gorilla Glass complete the 140 x 120 x 25 mm package.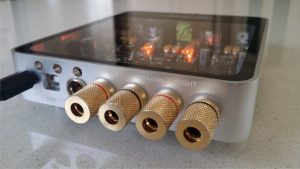 Additions to their previous Kickstarter project (the Hybrid Valve Headphone Amplifier) include a 100 Watt speaker amplifier. There are also two headphone jacks (6.5mm), each with their own volume controls, so two people can listen in together.
Saviaudio's SA9227 and Texas Instruments PCM5102A are at the heart of our extremely hi resolution DAC valve amplifier (32bit/384kHz). Combined with the military spec Raytheon valves and award winning Burr Brown series OPA2134 amplifier chip, this combination produces extremely hi quality audio with extremely low noise and distortion.
Desktop Valve Amplifier specifications
Hybrid Valve Amplifier
2 x separate headphone amplifier stages using Burr Brown OPA2134, each with it's own volume control
100 Watt (2 x 50W) class D amplifier using Texas Instruments TPA3116. > 90% power efficiency. Output short circuit protection
Raytheon 6418 Glass Tube Valves (replaceable). Mil spec
2 ounce Copper tracks
Low ESR capacitors
4 point PCB grounding direct to standoffs milled into the case for the ultimate in shielding and noise suppression
Analog input
DAC input 32 bit, 384 kHz using Savi Audio SA9227. Jitterless output. 16mHz clock speed in asynchronous mode
Vinly preamp using OPA2134 for ultra low noise with passive RIAA equalization
Bluetooth input
Bluetooth power supply electrically isolated to prevent Bluetooth interference from appearing on analog power supply
Power provided by compact external power pack to keep mains and AC coupling away from audio circuits
Case is CNC machined from single block of aluminium
Dimensions 120mm (wide), 140mm (long), 25mm (deep)
Solid aluminium feet with rubber inserts to prevent microphonics
IMS hopes to ship the units in June.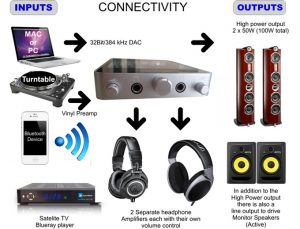 At time of writing 59 people have raised NZ$ 39,146 towards the goal of NZ$ 50,000, with 8 days left. Pledges of NZ$ 699 (£400) will be rewarded with one Desktop Valve Amplifier, NZ$ 2,621 (£1,500) gets you five of them.
Thanks to Sue P. for highlighting this one.
[Via NewAtlas.com]
Images: IMS Electronics
[ad_2]

Source link