[ad_1]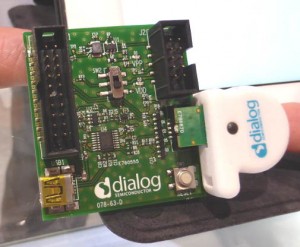 Energous' WattUp chips deliver over-the-air power and charging of electronic devices at a distance.
Dialog and Energous developed the DA4100 wireless power transmitter which has now been integrated along with Dispalog's SmartBond  BLE DA14681 chip to form an FCC-approved WattUp near field transmitter system.
On the receiver side, Dialog has completed the qualification of two RF-to-DC receiver ICs enabling designers to add WattUp wireless charging to a wide range of devices, including smartphones, wearables and hearables.
"Dialog believes that there is a large demand for completely untethered wireless charging, as more consumer electronics manufacturers seek to add new capabilities to their devices to differentiate themselves," says Dialog's Mark Tyndall.
Because Energous' WattUp technology sends energy through the air using radio frequencies, it is able to deliver intelligent, scalable power.
It differs from older wireless charging systems in that it delivers power at distances of up to 15 feet, to multiple devices, in any orientation.
Its small form factor antennas utilise the existing device's printed circuit board, removing the need for larger, more expensive coils and enabling broader adoption of wireless charging in a larger range of connected devices that can be used in the home, office, car and beyond.
[ad_2]

Source link