[ad_1]

DRAM sales will top $100 billion this year forecasts IC Insights, making DRAM the first product category to be worth more than $100 billion in annual sales.
This year's DRAM Market is expected to grow 39% to $101.6 billion.
The second largest product segment is expected to be NAND with sales of $62.6 billion this year.
Taking DRAM and NAND together the two are memory categories are expected to account for 38% of the total $428 billion chip market in 2018.
MPUs for PCs and servers were the biggest IC product category for many years but the increases in memory prices will push MPU into third place this year.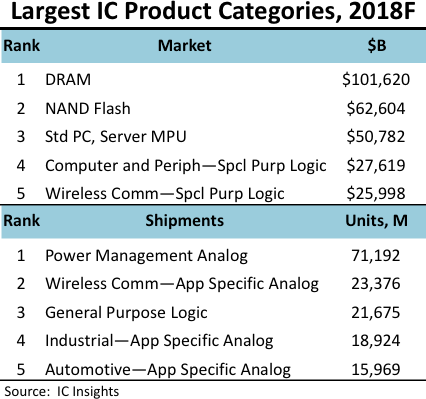 IC Insights expects MPU sales to increase 5% this year to $50.8 billion.
Analogue is expected to account for 54% of the total 318 .1 billion IC unit shipments this year.
Power management analogue devices are expected to account for 22% of total IC sales and are forecast to exceed the combined unit shipment total of the next three categories
[ad_2]

Source link