[ad_1]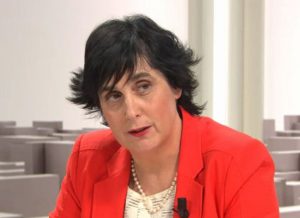 "We can do that because we have a history of building light sensors," Françoise Chombar, CEO of Melexis (pictured) told me at Electronica.
Chombar is not exactly an autonomous car optimist – seeing it as a 2040-50 kind of thing – but she is very much into the sensor technologies needed for ADAS and all routes to self-driving.
"We put the first time-of-flight gesture recognition technology into the BMW 7 series," says Chombar, "in fact we are the only semiconductor vendor to have a time-of-flight gesture recognition IC."
Melexis is a major supplier of chips to the auto industry and automotive ICs make up 89% of the company's revenues.
Like many analogue companies Melexis believes in growth by innovation rather than acquisition. "Our ambition is to make sure we continue our journey of innovation," says Chombar, "to bring nice engineering solutions. We're growing organically. We have done some acquisitions but they've been IP acquisitions."
"With the creativity we've built up we can listen and listen well and find the best ways to solve customers' problems. We adore doing that."
The customised, ASIC side of the business currently pulls in 40% of Melexis' revenues with standard products contributing 60%.
The main fab is X-Fab and the most advanced process Melexis uses is 130nm which is "absolutely sufficient", says Chombar.
The company averages a new product launch every month. At Electronica, it launched two new sensing technologies for simplified integration of temperature measurement,
The MLX90640 infrared (IR) sensor array offers a cost-effective alternative to more expensive high-end thermal cameras – 32 x 24 pixel device with a -40°C to 85°C operational temperature range capable of measuring object temperatures between -40°C and 300°C.
Field-of-view (FoV) options comprise the standard 55° x 35° version and a 110° x 75° wide-angle version. The chip is in a 4-pin TO39 package incorporating the requisite optics with a I2C-compatible digital interface,
The other Electronica launch was the MLX90342 – quadruple thermocouple interface for measuring extreme temperatures. It has been specifically designed to allow automotive designers to address the need for more stringent engine and exhaust thermal management and control.
This need is being driven by the higher temperatures associated with new, smaller, more efficient engine designs.
Target applications include turbo charger temperature control, exhaust gas recirculation (EGR), selective catalytic reduction (SCR), diesel oxidation catalyst (DOC) and diesel/gasoline particle filtering systems.
The chip supports a -40°C to 1300°C thermocouple temperature range and has an operating temperature specification spanning -40°C to 155°C. Guaranteed intrinsic accuracy is ±5°C (at 1100°C). The sensor interface is in 26-pin 6mm x 4mm QFN package and has a refresh rate of 50Hz.
Temperature data can be transmitted via a SENT Revision 3 digital interface, and integrated fault detection mechanisms also help sensor designs to conform to the latest vehicle exhaust regulations.
[ad_2]

Source link