[ad_1]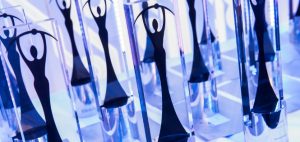 The host this year was the comedian and writer Ian Moore with an enthusiastic audience representing all sectors of the industry.
Congratulations to all of the winners, and thank you to all the sponsors who make the event possible.
Winners, Elektra European Electronics Industry Awards 2016
Design Team of the Year
Cambridge Design Partnership, First response monitor project
First Response Monitor is the world's first connected face-wearable device to help medics save the lives of multiple trauma casualties in disasters or on the battlefield.
Rather than use traditional medical monitoring techniques, the design team employed skills such as user understanding and undertook user research with combat medics and paramedics to assess how they currently worked and identify the most important elements in a first responder situation.
Finalists
ByteSnap Design
Cambridge Design Partnership
Educational Support Award, Sponsored by Mentor Graphics
BBC Learning – Micro:bits schools programme
BBC Micro:bit schools programme is one of the most ambitious educational initiatives to address the urgent need for greater skills in science, technology and engineering subjects in UK schools.
Up to a million pocket-sized computers are being given free to every pupil in Year 7 to inspire them to get creative with digital and develop core skills in science, technology and engineering. Already the Micro:bit website has been accessed nearly five million times. There have also been over half a million scripts downloaded.
Finalists
BBC Learning
Farnell/element14
European Passive Components Institute
National Instruments
Rohde & Schwarz UK
Yellow Beak Computer
Rising Star New Engineer of the Year, Sponsored by Power Integrations
Robert Green (Loughborough University)
Robert Green is a young engineer with strong social awareness. Having undertaken voluntary work with people with disabilities, he wants to engineer a better life for them.
During a placement year with National Instruments he worked on a digital letter-board-to-speech system, which enables paralysed people to communicate using taps of their finger or blinks of their eyes.
He is engineering better lives for people with disabilities before he has even graduated.
Highly Commended
Patrycja Walachowska (Pico Technology)
At the same time as studying at biomedical engineering Silesian University in Poland, Patrycja Walachowska was offered an internship in the cancer centre of a local hospital, where she wrote a program for auto-generating reports from the hospital database to inform doctors about the doses of radioactive markers taken by a patient.
Finalists
Robert Green (Loughborough University)
Christos Flouris (Sarsen Technology)
Patrycja Walachowska (Pico Technology)
Jacek Gryglewicz (Inex Microtechnology)
Design Tools and Development Software Award, Sponsored by Swindon Silicon Systems
Microchip Technology – MPLAB Xpress IDE
The cloud-based MPLAB Xpress IDE, while not the only tool to offer editors and compilers in the cloud, is impressive because it is perhaps the most complete from a hardware and software support point of view.
From launch it included support for around 400 microcontroller models and is soon expanding to cover the entire portfolio of 8-, 16- and 32-bit products, including more than 1,000 unique devices.
Finalists
Cadence Design Systems – Virtuoso analogue design environment
Mentor Graphics – Veloce DFT App
Microchip Technology – MPLAB Xpress IDE
Microsemi – Libero SoC design suite
UltraSoC – Bare metal security tools
Vicor – Power system designer
Passive & Electromechanical Product of the Year
Kemet – Arcshield high voltage 0603 capacitor
This is notable because it is the company's smallest high-voltage surface-mount multi-layer ceramic capacitor incorporating its proprietary internal arc protection. The patented ArcShield technology has an internal shield electrode system that suppresses arc-over while increasing available capacitance.
Developed on the principle of a partial Faraday cage, this offers a better approach compared to external surface coating technologies.
Finalists
Kemet – Arcshield high voltage 0603 capacitor
Lemo UK – NiCorAl conductive coating
Panasonic Automotive & Industrial Systems – Polymer hybrid aluminium electrolytic capacitor
TT Electronics – LRMAP low value shunt resistor
Vishay Measurements Group – FRFC precision flip-chip resistor
Power System Product of the Year
Turbo Power Systems – 100kW isolated DC-DC converter
Turbo Power Systems has designed this 100kW isolated DC-DC converter to meet the high efficiency and low weight requirements of the rail industry. It uses silicon carbide mosfets which offer switching speed and thermal benefits.
The circuit has been designed to minimise inductance and transformer materials for minimum size and weight. The result is a 96% conversion efficiency at full load.
Finalists
Bytec Healthcare – Medical battery pack for moveable instruments
Ericsson – BMR458 650W quarter-brick power module
Maxim Integrated – ModelGauge m5
Panasonic Automotive & Industrial Systems – NASBIS thermal isolation sheet
Texas Instruments – TPS54A20 Small 10A, 10MHz DC-DC converter
Turbo Power Systems – 100kW isolated DC-DC converter
Semiconductor Product of the Year – Analogue, Sponsored by Mouser Electronics
Intersil – ISL29501 Time-of-flight signal processing IC
This time-of-flight signal processing IC provides a complete object detection and distance measurement when combined with an external LED and photodiode.
Significantly, it is designed to overcome the shortcomings of traditional amplitude-based proximity sensors that perform poorly in limited lighting conditions or cannot provide distance information unless the object is perpendicular to the sensor.
Highly Commended
E2v – EV12DS400 12-bit, 4.5GS/s DAC
Finalists
AMS – AS7000 Biosensor
E2v – EV12DS400 12-bit, 4.5GS/s DAC
IDT – F1455 High gain variable gain amplifier
Intersil – ISL29501 Time-of-flight signal processing IC
Linear Technology – LT6657 Low drift bandgap voltage reference
Microsemi – ZL70550 Low power sub-gigahertz radio transceiver
Semiconductor Product of the Year – Digital
Toshiba – 48-layer stacked 3D flash
Toshiba invented NAND flash memory in 1984 and with its bit column stacked memory it has taken 3D NAND to a new level that supports significantly higher storage capacities, enhanced write/erase reliability and increased write speeds.
3D NAND is based on stacking flash storage cells vertically on a silicon substrate and Toshiba's device is based on a 48-layer three-dimensional cell structure.
Finalists
FTDI Chip – FT260 dual interface USB bridge
Lattice Semiconductor – CrossLink programmable bridge
Silicon Labs – EFR wireless Gecko microcontroller
Texas Instruments – MSP430 FRAM microcontroller with touch
Toshiba – 48-layer stacked 3D flash
Xilinx – UltraScale16nm family
LED Lighting Product of the Year
Plessey – Attis-7 LED plant growth light
The high output, low energy PhytoLux Attis-7 LED lighting system is based on Plessey's GaN-on-silicon LEDs with lenses and moveable heads to focus light to exactly where it is needed in order to stimulate plant growth.
It is installed in more than 70 sites in the UK and Holland, and featured on the BBC's Countryfile in February.
Finalists
Khatod Optoelectronic – Silicone TIR lenses
Plessey Semiconductors – Attis-7 LED plant growth light
Verbatim – Vx filter for LEDs
Test Product of the Year
Keysight Technologies – M8196A 92Gsample/s arbitrary waveform generator
The M8196A signal generator is unusual because it offers 32GHz bandwidth on four synchronised channels.
This means it can be used to emulate synchronised dual polarisation I/Q signals as well as digital multi-channel multi-level signals. Its sample rate is an impressive 92 giga-samples per second.
Finalists
Anritsu – MS2710XA Remote spectrum monitor
Keysight Technologies – M8196A 92GS/s arbitrary waveform generator
Mentor Graphics – Tessant ScanPro
National Instruments UK – Software-defined wireless test system
Pico Technology – PicoScope 2000B
Rohde & Schawarz UK – Scope Rider portable instrument
Smiths Connectors – Silmat elastomeric test socket
Internet-of-Things Product Innovation Award, Sponsored by Micron Technology
Semtech – LoRa radio technology
The judges felt that Semtech's LoRa radio technology had the potential to be an important wireless protocol for the internet of things because of its combination of low power and long range.
It has the potential to provide wireless coverage in dense urban areas, both indoors and out of doors. This makes it ideal as a smart home technology and is already being adopted in some European countries.
Finalists
Adesto Technologies – Moneta CBRAM
Imagination Technologies – Creator Ci40 development kit
R-Nox – Zive radiation monitor
RuuviTag – Bluetooth sensor beacon
Semtech – LoRa radio technology
Utilitywise – IoT-enabled building management system
Consumer Product Innovation Award – Readers' Choice, Sponsored by Avnet
See.Sense , Intelligent Bike Light
This iInternet-enabled bike light was invented by Philip McAleese after he was involved in a bike accident in Singapore. With its own sensors it connects to an app installed on your smartphone.
Not only is it a super bright LED bike light which is visible in daylight, it also turns a typical bike into an intelligent bike – monitoring the environment, alerting for help in the event of a crash, and is specifically designed for both day and night visibility.
See.Sense has the potential to collect anonymous data to help city planners improve cycling infrastructure.
Finalists
CP Electronics – UHS7 Smartphone App
SDRplay – Radio Spectrum Processor
See.Sense – Intelligent Bike Light
The Wand Company – Star Trek: The Original Series Bluetooth Communicator Wezzoo – Oombrella
University Research Award – Readers' Choice, Sponsored by RS Components
Bristol University drones hunt for minefields
University of Bristol scientists are attempting to speed up the detection of landmines using drone-based sensors. The objective is not to detect individual mines, but to cut the time de-mining teams spend probing empty areas – something known as 'area reduction' – by accurately finding the edges of minefields.
The project started after discussions with Croatian scientists who have been using spectral analysis from aeroplanes to look at colour changes in vegetation growing on minefields.
Finalists
Bristol University – Drones Hunt for Minefields
Cardiff University – Compound Semiconductor Technology Cluster
Glasgow University – Smartphone Gravity Meter
Plymouth University – AutoNaut Autonomous Boat
University College London – Avalanche Radar
Excellence in Design (High-Reliability Systems)
Spacechips – Reusable Satellite Transponder
Spacechips has designed a satellite transponder which offers the necessary performance without having to re-engineer avionic systems. Only mission-specific, on-board processing algorithms will have to be re-coded, without costly hardware design.
The design is based on a reusable and reconfigurable multi-mission avionics architecture suitable for all future satellite payloads.
Finalists
Harwin
Microsemi
Smiths Connectors
Spacechips
Excellence in Design (Medical)
Pikkerton/Panasonic Automotive & Industrial – InstaMon fall detection
The design of Pikkerton's InstaMon fall detection system which is used in the care of elderly people, benefits from its use of Grid-Eye infrared sensors developed by Panasonic Automotive & Industrial.
The sensors offer the necessary privacy protection, human position and fall detection up to a distance of seven metres independent of lighting conditions.
Finalists
Excelsys Technologies
Lemo UK
Murata
Pikkerton & Panasonic Automotive & Industrial Systems
Plessey Semiconductors
Xilinx
New Company of the Year
Brompton Technology
Founded in 2012, Brompton Technology is a specialist manufacturer of video processing boards for controlling LED video walls, used for high-profile events such as the US Academy Awards.
Despite competition from lower priced China-based competitors, Brompton Technology has become a respected brand within the LED industry based on the innovation and quality of its high-end products.
Finalists
Brompton Technology
Spacechips
Ultrahaptics
Manufacturer of the Year – Sponsored by Southern Manufacturing & Electronics
Speedboard Assembly Services
Speedboard Assembly Services has a manufacturing business which is robust to changes in the market and growing significantly faster than the market. This year turnover is in line to grow by 20%.
Key to the company's success is an increasingly collaborative approach to customer engagements, offering design for manufacture and design for test services.
Finalists
Actisense
Axiom Manufacturing Services
Exception EMS
Speedboard Assembly Services
Texcel Technology
Distributor of the Year – Sponsored by Panasonic Automotive and Industrial Systems Europe
RS Components
RS Components impressed the judges this year with strong business growth and an expanding design tool activity.
Growth in electronic product sales included 34.3% growth in semiconductor sales in Europe.
The company's design tool business goes from strength to strength, with 140,000 new users of its free design tools during the year. Sales of development kits and single-board computers grew by 72% in Europe.
Finalists
Avnet Abacus
Conrad Business Supplies
Digi-Key Electronics
Mouser Electronics
RS Components
Solid State Supplies
Company of the year
Semtech
Semtech has achieved something which does not happen very often in the wireless communications industry: it has succeeded in getting its once propriety long-range wireless technology, known as LoRa, adopted as an industry standard for the internet of things, which is supported by IBM and Cisco and major semiconductor companies.
Mobile operators in Europe are adopting the wireless standard for national IoT networks.
But the company has not stopped there, it is now finding new applications for the networking technology in consumer and automotive markets.
Lifetime Achievement Award
Professor Christofer Toumazou
The Elektra Lifetime Achievement Award was presented to Regius Professor Chris Toumazou, who has been dedicated to saving and improving lives through leading edge medical research. He has set up four company ventures to commercialise his research.
His list of achievements includes the development of cochlear implants for children born deaf, an artificial pancreas for people with Type 1 Diabetes and a wireless heart monitor for personalised post-operative healthcare.

He invented and commercialised a semiconductor device which is radically changing the way DNA genetic sequencing is used in medical diagnosis.

He holds over 50 patents and has created medical device companies – Toumaz Technology; DNA Electronics; and Institute of Biomedical Engineering at Imperial College London – employing over 350 people.

And Toumazou continues to innovate in medical electronics. His newest venture is a start-up company which is developing a user-operated genetic 'self-test' device.

He is London's first Regius Professor of Engineering, working at Imperial College London where he holds a Chair in Biomedical Circuits in the Department of Electrical and Electronic Engineering.

In 2009 he was appointed to the Fellowship of the Royal Academy of Engineering and received the World Technology Award for Health & Medicine.

In 2013 he was invited to speak on healthcare at the G8 Summit in the UK, and was also awarded the Royal Society Gabor Medal for his invention of semiconductor sequencing.
More on the Elektra Awards 2016
More coverage – photos, videos, and such like – will follow shortly. Stay tuned here »
[ad_2]

Source link