[ad_1]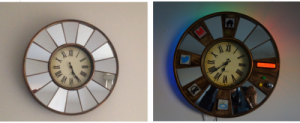 Sponsored by Intel, element14 challenged 15 community members to Upcycle an unwanted or waste product to give it a new or enhanced lease of life.
The application areas for this challenge and ability to use unlimited components to complete an original electronics-based project offered true design freedom, an opportunity that the challengers did not turn down.
"We were delighted to see so many innovative ideas come through, upcycling retro items with electronics to serve a purpose in the 21st century – and proving that upcycling is not just about furniture and art," says element14's Dianne Kibbey.
The top three entries are:
Grand Prize Winner Carmelito Andrade from the United States, upcycled a mirrored clock into a truly functional household IoT Hub, using the Intel Edison to help users prepare for their day ahead. The clock provides an update on the weather, temperature, and traffic, as well as presenting new emails and even the latest news from social media. The judges were impressed with the use of fabrication techniques used, such as 3D printing, to incorporate new technology whilst maintaining the retro look of the clock.
Runner Up, Jason Wier, also from the United States upcycled the APC AP9211, a Power Distribution Unit (PDU) produced in 1999 into a functional modern IoT Power Distribution Unit. He used the Intel Edison to host a custom, responsive web interface which controls the PDU relays from a wireless, handheld device. The unit also communicated with his home hub to manage temperature and lights and displayed graphs of the captured data. The judges felt that Jason designed a highly marketable project that they could see on the shelves of their local electronics store.
Third Place Winner, Gerrit Polder from the Netherlands upcycled Electomatic's Impulszähler EZK impulse counter into a web scraping value display device. Although the data displayed was relatively simple, the method for gathering and displaying information really caught the judges' imagination. He used the Intel Edison to find and display time, date, temperature, humidity and pressure, scrape and display blog 'views' and 'likes' and make the display speak with a connected Wireless Bluetooth speaker.
Entries were judged on originality, innovation and technical merit.
[ad_2]

Source link