[ad_1]


The event covers automotive, military, telecomms, industrial and consumer electronic sectors.
Simply bookmark: www.electronicsweekly.com/tag/embedded-world/
Embedded World 2017
Pre show
Embedded World: Intel targets makers with Farnell tinyTILE
Farnell element14 works with Intel to create a wearable and IoT design board based on Intel's Curie module, the tinyTILE, measuring 35mm x 26mm.
EW: Imagination brings ThreadX RTOS to I6400 processor
Imagination Technologies announces expanded support of Express Logic's industrial grade ThreadX RTOS (real time operating system) for its CPUs based on the multi-threaded MIPS I-class I6400 processor core.
EW: IoT gets real, says ARM director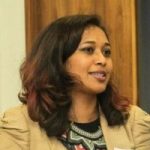 One in five companies has begun rolling out IoT services and products, and half of those surveyed say IoT will be an important part of their business strategy.
EW: Microchip adds more flash to tinyAVRs
Three new tinyAVR microcontrollers with more on-chip memory featuring Microchip's Core Independent Peripherals, which run independently of the core processor.
EW: Arduino shield gives sensor node data protection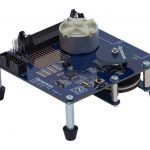 To provide hardware with authentication and to secure small data transactions between the device and the cloud Maxim Integrated has developed an embedded security reference design.
EW: Water flow measurement kit runs for 35 years
Renesas introduces a rotational flow demonstration kit for its RL78/I1D microcontroller that is designed to detect and measure the flow of water or gas in metering applications.
EW: Weightless-P network hardware launches at Embedded World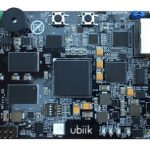 Ubiik is launching the Weightless Ignition Pack, which includes the hardware required to deploy, demonstrate, evaluate and develop Weightless-P IoT networks.
---
Previous Embedded World 2016
Thursday 25 February 2016
EW: Raspberry Pi IoT starter kit embraces EnOcean and IBM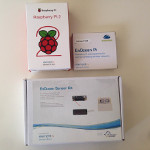 Farnell element14 has launched two IoT starter kits featuring energy harvesting wireless sensors from EnOcean, one of them including the Raspberry Pi micro-computer board.
Wednesday 24 February 2016
EW: ARM launches tiny, power-sipping, A32
Occupies less than 0.25 mm2 of silicon area when made on a 28nm process and consumes under 4mW of total power at 100 MHz.
EW: Fujitsu 4Mbit FRAM reaches 54Mbyte/s operation
Called, MB85RQ4ML, with its four bi-directional I/O pins operating at 108MHz it can reach a data transfer rate of 54Mbyte/s.
Tuesday 23 February 2016
EW: NXP claims smallest network processor ever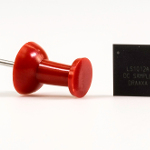 Aimed at portable wireless storage, in IoT applications, it is based around ARM's 64bit Cortex-A53 into a 9.6×9.6mm package.
EW: Antenova reveals antenna for super-fast data transfer between phones
Antenova reveals an antenna for TransferJet, and is demonstrating it at Embedded World in Nuremberg.
EW: Choosing the best embedded platform for your journey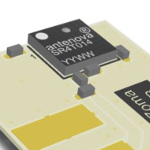 Developers are now offered platforms, but the selection process still involves matching both your hardware and software requirements
EW: Platform approach to test
Test and development systems are following the trend for platforms with traditional benchtop instruments being replaced by PC-based test systems with modular instruments sitting on a high speed bus such as PXI, LXI or even Ethernet.
Pre show
EW: Renesas ramps design house support for ARM IoT platform

Renesas Electronics says Europe-wide network of independent design houses (IDHs) is in place to support its Synergy ARM processor-based IoT development platform.
EW: Microchip moves PIC development to the cloud
Microchip puts its MPLAB Xpress integrated development environment (IDE) in the cloud.
EW: Raspberry Pi has a rival in Germany which goes on sale in April
The first 1,000 BeagleCore modules (BCM1) and 500 BeagleCore starter-kits (BCS1) will be available from April through distributor Conrad Electronic.
Meet Electronics Weekly at Embedded World 2016
You will be more than welcome to say hello at the Electronics Weekly stand. You'll find us in hall 4A, stand 463.
[ad_2]

Source link