[ad_1]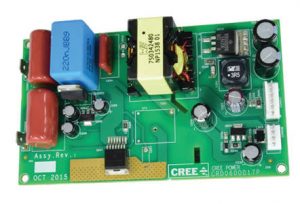 It delivers two isolated 12Vdc outputs, and potential applications include creating auxiliary rails from DC links in single and three-phase mains power supplies.
The design, called CRD-060DD17P-2, centres around Wolfspeed's C2M1000170J mosfet in a modified D2PAK – the 7LD2PAK – a surface mount package that combines a small footprint with 7mm creepage distance between drain and source. It has low parasitic inductance, low drain gate capacitance, and a separate driver source pin.
Heat is taken out of the package's tab by copper layers and multiple via holes and, to boost output to 58W, a small optional heatsink from Aavid can be added to the transistor. With or without the heatsink, the hottest component on the board is one of the secondary-side rectifier diodes.
According to Richardson RFPD, which is stocking the board, the high-blocking-voltage single-transistor design can be used to replace the more common, but more complicated, silicon-based two-switch fly-back topology.
An active start-up circuit is included to reduce start-up losses and shorten start-up time.
In July 2016, Infineon bought the Wolfspeed Power and RF division of Cree for $850 million. The deal also included the related SiC wafer substrate business for power and RF power.
[ad_2]

Source link