[ad_1]

In the latest in our series on the EW BrightSparks of 2017 we highlight Keno Mario-Ghae, who works as a Project Engineer at Imagination Technologies.
Having graduated from Cambridge University, Keno has done many activities involving sustainable energy, such as being a World Solar Challenge ambassador. He has also worked on complex product design on the Creator IoT development boards. Additionally, with his work at Imagination, he received the NMI 'Young Engineer of the Year'.
IoT development
Keno's cites building the Creator Ci40 IoT Development Kit – a project he has been working on for the last two years – as his proudest electronics achievement.
"As a team, we built the Creator Ci40 kit, which is an IoT development kit that helps people to understand the principles of building things at scale and gives them the ability to practically deploy systems within hours rather than months."

"There were a lot of teething issues – the biggest problem was that generally, user ability was extremely varied, so my greatest achievement was developing a team to build out reference examples and libraries so that users who were not at the peak of software engineering or electronics could still build systems. The kit has taken the average time to build a system from 2 weeks to 2 hours. Next, we'll go from 2 hours to an hour, and if we keep going maybe we can even get that down to just minutes."
In his spare time he's also a keen athlete. Check out his twitter homepage picture!
Selection Panel comments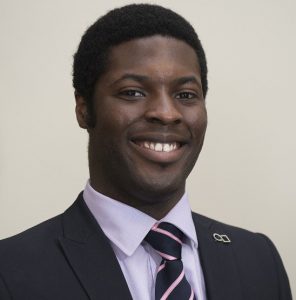 Lindsley Ruth (CEO, RS Components) – Keno stands out as a BrightSpark winner for his incredible personal drive and ambition. He pushes the boundaries in all aspects of his life form his own personal sporting achievements through to his passion for supporting the development of sustainable energy and his product development work for Imagination technologies where he has won awards for his work on scalable Internet of Things technology and growing the wider MIPS ecosystem.
Isabella Mascarenhas (IET's Young Professionals Engagement Manager) – The future of our planet depends on talented young engineers such as Keno to devise sustainable solutions in areas like energy. His work is already being acknowledged thus promising an exciting future for him. 
[ad_2]

Source link