[ad_1]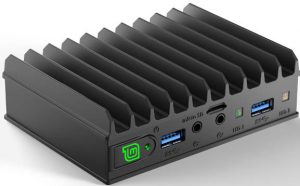 Processing comes from a quad-core 'Apollo Lake' Celeron J3455, and the machine ships with the Mint 19 'Tara' Cinnamon installed.
Other Mint variants, or other Linux variants, or even Windows 10, FreeBSD or a hypervisor like ESXi can be installed, but "Linux Mint Cinnamon is considered by many as the most user-friendly desktop-oriented Linux distribution. MBM2 ships with clean Linux Mint Cinnamon so the buyer can start using Linux in minutes," said Compulab.
Inside is 4Gbyte of RAM, or 8Gbyte in the 'Pro' version, which can be upgraded to a total of 16Gbyte.
Main storage is a M.2 2260 SATA SSD, with 64Gbyte pre-installed in the standard MBM2 and 120Gbyte in the Pro – both can be up-graded.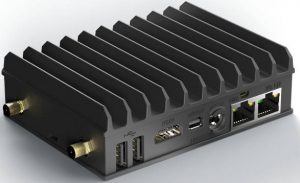 Dual Gbit Ethernet is included, as is 802.11ac Wi-Fi (antennas go on on the end connectors) and Bluetooth.
There are four USB ports (2x 3.0 and 2x 2.0) and video comes though HDMI and mini-DisplayPort for dual 4K displays.
The front panel handles audio jacks, micro-SD, RS232 and programmable LEDs.
"MBM2 is the first Mintbox that enables the user to enhance the hardware functionality," said Compulab. "It accepts fitlet2 FACET-Cards, which are available as stand-alone kits for DIY upgrades. FACET-Cards are easy to install and fit seamlessly inside MBM2."
FACET-Card is 'function and connectivity extension T-card, adn options include:
FC-M2LAN Extra two Gbit Ethernet ports (4 overall)
FC-POED A 3rd Gbit Ethernet port that allows powering MBM2 through P-o-E and preserve WiFi
FC-PCI or FC-CEM4G modem + WiFi + M.2 2280
SATA SSD 5" SATA HDD/SSD (up to 15mm / 5TB) with HDx
 FC-USB Extra four USB ports (for a total of 8)
 FC-SCG Extra RS232 / RS485, GPIOs and CANbus
"Additional FACET-Cards are currently under development by Compulab, including a FACET-Card supporting 2x 2.5" HDD/SSD + M.2 SATA and a FACET-Card with an SFP+ port for optical LAN," said Compulab.
Compatible fitlet2 accessories and external add-ons include:
fit-Uptime miniature Li-ion UPS that can power MBM2 for up to 3 hours
fit-statUSB fingernail-size programmable USB multi-color LED indicator
fit-Headless family of products of display emulators for headless operation
– and there are VESA mounting brackets so the PC can go in the back of a display, as well as din-rail mounting option.
[ad_2]

Source link