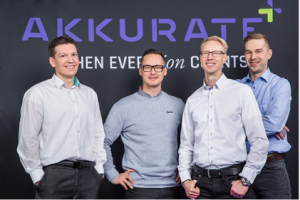 Investors include Finnish Lifeline Ventures, Suffice International from Hong Kong and the Lappeenranta University of Technology investment company Green Campus Innovations.
 The start-up was born out of Microsoft's takeover of Nokia.
"The number and size of batteries keep on growing, and there will be even more applications for us in the future. Electric vehicles, mobile devices, the Internet of Things, and energy storage technologies all require reliable, efficient, and safe solutions," says CEO Mika Kanninen, "twhe megatrend of electrified traffic is not limited to cars, but it includes, to an increasing degree, ships, ferries, trucks, construction sites and mining machinery, which are increasingly becoming powered by electricity instead of diesel fuel – China being the pioneer."
Akkurate has also initiated a research project on battery diagnostics, supported by Business Finland – the innovation funding organisation of the Finnish government – with research expected to be completed by the end of this year. The company is also part of the EU Battery Alliance work group, set up by the European Commission and assigned to ensure the future competitiveness of the European battery industry.