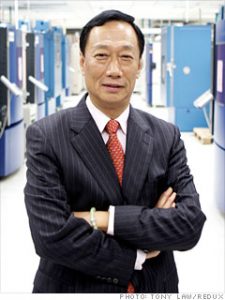 "Automotive development in the US is still more advanced than China," Foxconn founder Terry Gou told the Post, "besides self-driving technology, I'm also interested in artificial intelligence and deep learning technology."
Last week Foxconn announced a $10 billion investment in Wisconsin which is said to be creating 13,00 jobs at an average salary of $53,000. Thst plant will build LCDs.
President Trump later said that Gou had told him 'off the record' that he had plans to build a total of three facilities in the US.
Michigan and Wisconsin are two of three states, the third being Pennsylvania, which unexpectedly pushed Trump over the top in delivering enough Electoral College votes to secure him the US presidency.