[ad_1]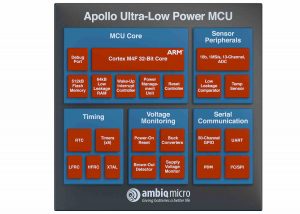 The Apollo 2 MCU is notable for its use of sub-threshold logic developed by Ambiq Micro. This allows the device to have power consumption of around 10µA/MHz.
As the exclusive distributor of Ambiq Micro products in Europe, FEEU will offer full technical support for the low-power MCUs. General availability is planned for the second half of 2017.
Apollo 2's complete set of peripherals includes:
High-precision 14-bit analog-to-digital converters (ADC)
Digital microphone interface with pulse density modulation (PDM) for voice applications
Voltage comparator
Temperature sensor
I2C/SPI for communication with sensors, radios, co-processor and other peripherals
Universal asynchronous receiver/transmitter (UART) for communication with peripherals and legacy devices
Integrated high efficient buck-converters
Other products in FEEU's portfolio which will support low power embedded designs for the wearables and IoT markets includes ferroelectric RAM, and also foundry and packaging services that support near-threshold and sub-threshold applications.
Axel Tripkewitz, president and managing director of FEEU, writes:
"Ambiq Micro's Apollo 2 Platform will be another important cornerstone in our line card portfolio, helping our customers to build wearables and IoT devices with maximised performance and minimised power consumption."
[ad_2]

Source link