[ad_1]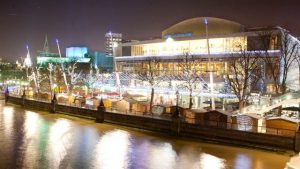 'As advances in machine learning and artificial intelligence (AI) threaten to disrupt labour markets globally, the summit led by the Institute of Development Studies (IDS) will call on businesses and governments globally to urgently look at new ways to create and sustain decent jobs for all', says the IDS .
It continues: 'Technological advances from self-driving vehicles to automated manufacturing to algorithmic decision making are upending industries such as transportation, textiles, banking and insurance.'
The IDS quotes research which says 47% of jobs in the US and 35%?in the UK are at risk of automation and prospects for workers in lower-income countries are predicted to be worse.
Speakers and participants at the Digital Development Summit from organisations including Facebook and the Trade Union Advisory Committee to the OECD will discuss ideas for how businesses can create and sustain jobs and how governments could help enable and support decent work, including universal basic income, levying digital taxes and revamping education and training.
They will also consider the fact the expected job losses from technological advances stand to disproportionally impact women and the urgent need to ensure the risks and benefits of digital technology are considered in relation to meeting the Sustainable Development Goals Goal 8 'Decent Work and Economic Growth'.
[ad_2]

Source link