[ad_1]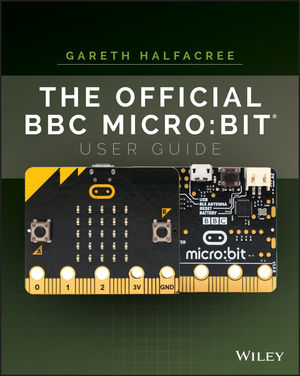 It's described by the publishers as "the go-to guide to getting started with the BBC micro:bit and exploring all of its amazing capabilities".
As well as explaining the workings of the BBC micro:bit and its sensors, it introduces readers to basic programming concepts (using JavaScript Blocks, JavaScript, and Python), shows how to build their own wearable micro:bit, how to communicate wirelessly between BBC micro:bits and how to build circuits and add extensions.
It also covers how you could integrate the BBC micro:bit with the Raspberry Pi.
Author
It's written by experienced tech author Gareth Halfacree – author of the Raspberry Pi User Guide and an expert in educational and embedded computing – and is endorsed by the Micro:bit Foundation.
It's published by Wiley and more info can read online, where you can also find the code that accompanies the text.
Details
Title: The Official BBC micro:bit User Guide
Author: Gareth Halfacree
Publisher: Wiley
Date: December 2017
Price: £20.99
Format: Paperback and e-book
ISBN: 9781119386735
The Micro:bit was launched in July 2015.
[ad_2]

Source link