[ad_1]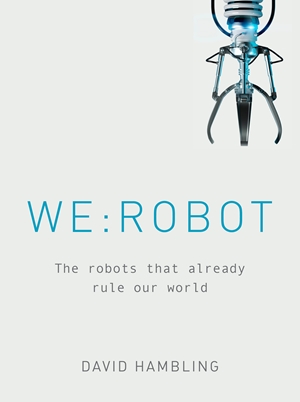 Taking an in-depth look at a range of specific, individual robots, the book considers how robots have become established in various settings – how they work and what they tell us about our future.
For someone interested in practical present day robotics it's a treasure trove. A book-sized Top Trumps rove across the technical domain, with each section containing a photo of the precise robot, an overview of its main components and some context for its aims and purposes.
Robotic snapshot
It's both an interesting snapshot of where we currently stand on practical robot systems and a coffee-table miscellany of high-tech robotics. Fascinating.
There are four main sections: Robots at Work, in Your Life, at War, and Robots Beyond, a look at more futuristic robots that have already been constructed.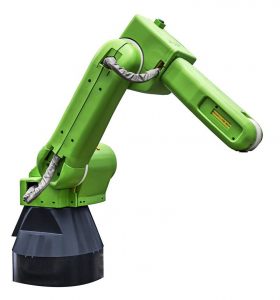 For example, in Robots ar Work, you can reads about the Japanese company FANUC's CR-35iA (right), an industrial robot that can collaborate with humans on production lines. Or the smaller-scale, more generalised application of Danish Universal Robot's UR10, or the iRobot Roomba 966 vacuuming system.
In Robots in Your Life, among others, there is AvatarMind's IPAL for teaching young children, the Amazon Prime Air delivery drone and Smart Tissue Autonomous Robot, designed by the Sheikh Zayed Institute for Pediatric Surgical Innovation, in Washington DC, which can track the movement of tissue in three dimensions during 'robotic' surgery.
In Robots at War you can read about, Endeavour Robotic's bomb disposal PackBot 510, the Sarcos Robotics XOS-2 Exoskeleton for lifting heavy objects or smashing through walls, or the General Atomics MQ-9 Reaper, the drone aircraft used by the US and British military for air strikes.
Finally, in Robots Beyond, you will find Harvard University's Octobot (pictured below) providing 'soft' manipulation of objects (think of octopus tentacles), US Naval Research Laboratory's Sea Glider, and Vishwa Robotic's Vishwa Extensor, the hand-like manipulator designed for deep-sea environments…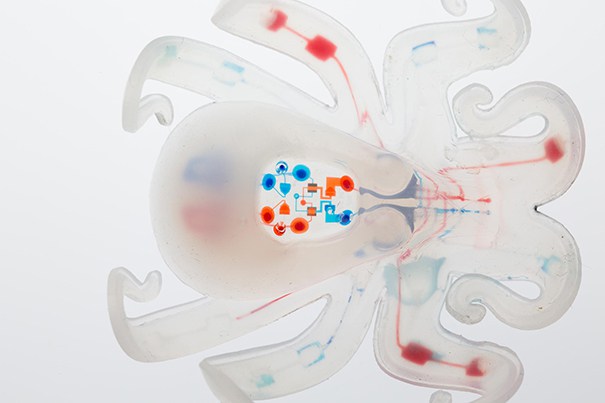 Fascinating stuff, and it's not just technical information – there are 100 photographs and illustrations (diagrams of the various robot's main components).
The publishers, Aurum Press of the Quarto Group, write:
David Hambling reveals the groundbreaking machines – once the realm of science fiction – that are by our sides today, and those that are set to change the future forever. From the Reem robocop that polices the streets of Dubai to the drones that deliver our parcels and even the uncanny Gemonoid Hi-4 built to look just like you, here are fifty unique robots that reach into every aspect of our daily lives.
Publication
It's not out just yet, note. The hardback publication date is 7 June 2018 and it will be priced at £18.99
David Hambling is a technology journalist who has written for titles including the Economist, New Scientist, WIRED, Aviation Week, Popular Mechanics and Popular Science. His other books include Weapons Grade, looking at the military roots of modern technology, and Swarm Troopers, examining the rise and future prospects of drone warfare.
Details
Title: WE: ROBOT: The robots that already rule our world
Author: David Hambling
Publisher: Aurum Press
Format: Hardback
ISBN: 9781781317464
Pages: 224 Pages
Size: 170 mm x 230 mm
[ad_2]

Source link