[ad_1]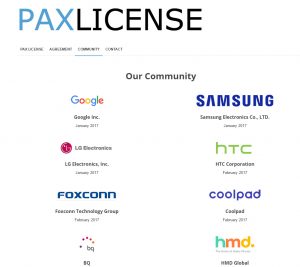 Basically, it's a royalty-free community patent cross-license that covers Android and Google Applications preinstalled on devices.
The idea is to create an Android patent clearinghouse that, in the words of Google, "ensures that innovation and consumer choice – not patent threats – will continue to be key drivers of our Android ecosystem".
PAX is free to join and open to anyone. Just don't expect Microsoft, or Oracle, to sign up.
The company writes:
We call it a community license because all members grant licenses to one another on a royalty-free basis, thereby promoting patent peace within the Android ecosystem. By joining, you will receive broad, long-term freedom of action with respect to Android and Google Applications from all other members. We believe this materially reduces patent risk. And best yet, it's free to join and open to anyone.

We are delighted to launch PAX with 9 members: Google, Samsung Electronics, LG Electronics, HTC, Foxconn Technology Group, Coolpad, BQ, HMD Global, and Allview. In total, these companies own more than 230,000 patents worldwide. We encourage other companies, large and small, to consider the PAX License. In short, with respect to Android and Google Applications, this license stands for patent peace between the signatories.
You can read more about it on the Google Blog »
PAX is not the only patent licensing effort from Google. It's also involved with the LOT Network and the Open Patent Non-assertion Pledge. It also participates, it says, in the Open Invention Network and IP3 run by Allied Security Trust.
[ad_2]

Source link