[ad_1]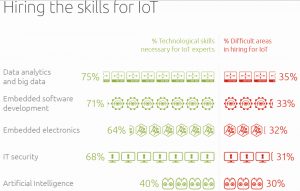 In the burgeoning world of the IoT many business leaders are finding themselves running headfirst into a set of technology and business challenges that they do not yet fully understand. They are quickly realising that they need a new generation of talent with the skills to navigate the current Wild West that is the Internet of things – but these 'gold nuggets' are proving difficult to find.
So much so, 68% of the 360+ IoT professionals who took part in Canonical's recent survey say they are struggling to recruit employees with the right skills and expertise needed to make the Internet of things a success.
IoT skills
The survey identified data analytics as the most sought after IoT skill (75%) and the most difficult to hire (35%), but coming in very close second was embedded software development, with 71% deeming these skills a necessity for anyone claiming to be an IoT expert.
In one sense this is surprising, given that embedded development is by no means a new discipline. But with hardware rapidly commoditising, and monetisation and differentiation increasingly coming from software, it is natural that businesses invest in building up their embedded software development capabilities.
Software development in the IoT also requires a real breadth of knowledge. Any current 'full stack' developer or architect must be aware of many more components, which could be anything from machine learning, Artificial Intelligence or Blockchain to new user interfaces such as Augmented Reality or communication stacks on emerging networking protocols.
As a result, 33% say they struggle to hire embedded software developers. The same respondents also face similar challenges recruiting general experts in embedded electronics (32%).
Outsourcing
Given these recruitment challenges, we are likely to see a short-term trend towards the outsourcing of these skills through freelance developers, consultancies or system integrators, who have significantly broader resources to aid an implementation.
But during the process of identifying the skills that are required and whether to build these internally or source externally, businesses will also need to consider other factors, such as:
• Who is best placed within an organisation to lead IoT projects?
• Who is best placed to bridge the gap between the complete technologies involved and the need to create profitable business models?
Code reuse
This might sound daunting but many of the old embedded software development rules are still valid… such as the choice of software development stack. By choosing a stack that can run as easily on the edge of the IoT network as in the cloud, companies will benefit from code reuse and from being able to use the same developer across the stack. This is particularly true in IoT, where gateways run similar software as the cloud and where heavier development languages can be used at the edge thanks to increasingly powerful IoT chipsets.
The choice of operating system also has a huge effect on operational costs so once again, choosing one that can be used from the edge to the cloud means devops, support and security engineers can integrate the new IoT operations much faster in their workflow.
Above all, businesses must be agile when it comes to deciding on the 'right' people, skills and team to take them forward. What is decided upon today, is unlikely to remain the same in even one or two years, so constantly evaluating what change is needed and being able to execute that change quickly is a must.
Mike Bell is EVP IoT & IoT at Canonical. For more on the IoT skills gap and the findings of Canonical's IoT research, you can refer to its Defining IoT Business Models report.
See also: Guest Post: Software defined everything – the future of IoT
See also: Guest Post: Ensuring today's IoT innovations aren't tomorrow's security disasters
[ad_2]

Source link