[ad_1]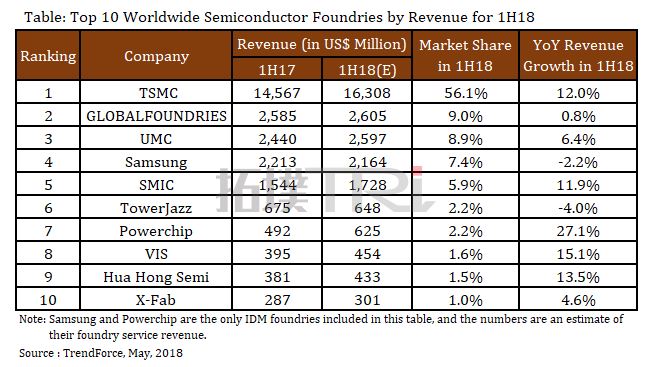 TSMC is expected to hold 56.1% market share with GloFo second.
UMC is third with limited growth due to pressure from TSMC's dominant market share in advanced processes. UMC focuses on developing new customers for 28nm and 14nm processes.
Samsung, ranking fourth, is actively promoting its Multi-Project Wafer (MPW) service among potential clients, exploring new possibilities of cooperation. 
SMIC, ranking  fifth, is now devoted to improving the yield rate of 28nm process. Manufacturing on other processes with mature yield remains the major driver for the  growth.
 TowerJazz has been adjusting its product mix, increasing the share of high-profit products. The adjustment has resulted in lower-than-expected revenue in the first half of the year, a decrease by 4% over the same period last year. 
Powerchip has benefited from growing orders and staged remarkable performance, with an estimated revenue growth of 27.1% over the same period last year.
Rising demand for 200mm foundry wafers have brought 15.1% growth for VIS and 13.5% growth for Hua Hong.
X-Fab is expected to benefit from industrial and automotive markets, recording a slight growth of 4.6% in 1H18.
VIS has become the first foundry in the world to provide foundry service on 200mm GaN-on-Silicon wafers. 
X-Fab has integrated SiC to its 150mm wafer fab with a monthly capacity of 30,000 pieces. 
Taiwan-based Episil Technologies is also actively developing its foundry service of SiC and GaN wafers.
[ad_2]

Source link