[ad_1]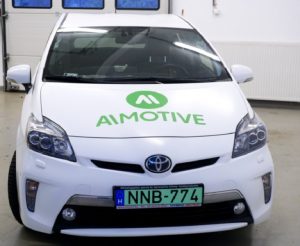 AImotive of Budapest reckons to implement autonomous driving using regular cameras and artificial intelligence.
"aiDrive enables truly global L5 self-driving functionality in all weather and driving conditions. Using neural networks, the aiDrive makes decisions that provide unparalleled safety and comfort through a deep visual understanding of its environment," says the company web-site.
AImotive claims to be able to kit out a standard car with everything to make it driverless for $6000.
The company has taken an office near Google's HQ in Mountain View, California and has applied for permission to test its cars on the local roads.
It's cars use four fish eye cameras for side views and two stereo cameras for front and rear views. The computer is in the boot.
AImotive says that its software controls the car using for engines the recognition, control, location and motion engines.
The AImotive site describes these four engines:
"Using camera images as a primary input the Recognition Engine combines and processes sensor data using our pixel-precise, convolutional neural network (CNN) based segmentation and distance estimation models. The engine is able to recognise more than 100 different object classes including passenger cars, pedestrians, bicycles, motorcycles, animals and drivable road surface and estimate their distances even from a single camera's view. Our expertise in neural network design, parallel GPU programming, and deep learning enables the Recognition Engine to run complex classification algorithms in real-time."
"The Location Engine enhances conventional map data with 3D landmark information, which ensures precise self-localization and navigation, while also keeping the in-car memory requirements extremely low. The landmark database solution is globally scalable and can work with any OEM's default navigation system."
"The ability to track and predict the motion patterns of surrounding objects is a key feature in defining the safe and drivable space for autonomous cars. Motion Engine takes the positioning and navigation output from the Location Engine and combines it with the predicted state of the surroundings to decide the right trajectory for the vehicle, while adapting to different driving cultures and situation-specific driving styles. Motion Engine is also able to recognize emergency situations and act accordingly with a secondary trajectory plan that ensures maximum safety for both drivers and pedestrians."
"The aiDrive suite is also fully capable of controlling the vehicle through low level actuator commands (e.g. steering, braking, acceleration). This is done by the Control Engine which translates and communicates the previously chosen trajectory to the vehicle."
[ad_2]

Source link