[ad_1]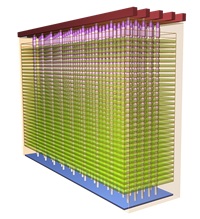 Tsinghua is outfitting a massive memory fab at its Yangtze River Memory Storage company and is said to be preparing to make 32-layer NAND there.
Hynix has 96-layer NAND and many years of flash production experience and could help Yangtze River leap-frog several NAND generations to the leading-edge of NAND production.
A licensing deal with Tsinghua would very likely ease the China regulator's concern about Hynix's presence in the Bain-led consortium to buy Toshiba Memory.
The Korea Herald is also reporting analysts as saying thst a Hynix-Tsinghua licensing deal is being discussed.
[ad_2]

Source link