[ad_1]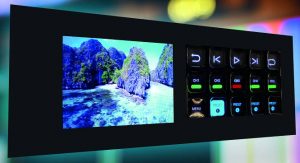 Intended to bring phone-like quality to rack displays, there are options with up to 212ppi resolution and IPS technology for wide viewing angles.
With versions for 1U and 2U racks, they are "designed to meet the challenging wear and tear of the industry, delivering exceptional resolution for the form factors involved, as well as high brightness and outstanding readability at all viewing angles," said the firm.
Phone-like projected capacitive touch is included, as is haptic feedback.
Said to be new for IBC is mechanical touch technology, but it is unclear if this uses existing touch and haptic feedback, or additional hardware – Electronics Weekly has requested clarification.
All Densitron has said so far is that the technology uses the images on the larger display behind it, and that it has "integrated mechanical buttons with projective capacitive touch technology – having a mechanical button makes it easier for operators to be sure they have activated it. Currently this isn't possible with a traditional touchscreen."
Why develop products for the broadcast industry at Densitron?
It was a strategic decision.  "This has been a major commitment backed by a significant research and development investment. The new UReady family of products are among the first results of this decision," said Desitron business development director Chris Goodhall.
Uready displays:
16600 for 1U – 6.6" 222ppi IPS 178.4 x 40 x 3.35mm
14300 for 1U 4.3" 105.24 x 34 x 3.60, also for under monitor display applications.
29000T for 2U slimline – allows for the inclusion of buttons and switches if required, touchscreen GUI, haptic touch 237 x 58.95 x 4mm
28000T for 2U, projected capasitive touch and IPS acreen, haptic touch 249.2 x 89 x 7.26mm
28001H – as 2800T, with mechanical mousing for existing rack-mount casings "eliminates potential issues associated when adding haptic touch technology such as vibration and movement".
The displays are manufactured at Densitron's Asian facility.
[ad_2]

Source link